The Talented Mr. Ripley (12-Dec-1999)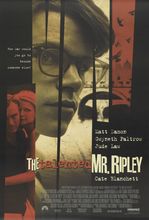 Director: Anthony Minghella
Writer: Anthony Minghella
From novel: The Talented Mr. Ripley by Patricia Highsmith
Keywords: Thriller




Enigmatic sociopath Tom Ripley accepts a commission to fetch an errant millionaire's son from Italy. But once locating Dickie Greenleaf, he exploits the situation to full advantage. Received Oscar nominations for Best Supporting Actor, Best Screenplay, Best Set Decoration, Best Costume Design, and Best Original Score. Second adaptation of Patricia Highsmith's novel, the first being Purple Noon (1960).
[watch trailer]
REVIEWS
Review by Jerry Marcolina (posted on 21-Apr-2009)
I saw this film in theaters when it first came out in 1999, and initially didn't think it was all that successful. I never gave the film another thought until I watched it again in 2009 and thought it was brilliant. Matt Damon does a fantastic job of being a human facade in many different ways. He has "almost" everyone fooled, but "Marge" Gwyneth Paltrow, is too clever to escort her way out of the film without finally telling "Tom Ripley" AKA Matt Damon that she knows that indeed it was he that killed her beloved boyfriend and husband to be, which The Talented Mr. Ripley see's right through. They are boating and when Tom Ripley hits the final chord by telling Senor Greenleaf that he really knows that he is something he is NOT!, Greenleaf gets offended and clobber's Tom Ripley which then sparks Tom to killing off Greenleaf and assuming his identity. He did alot of scamming for the thousand dollars that Dickie Greenleaf's father gave him. What most people don't know is, that at the final curtain call... so to speak, (the end of the movie), he still has Marge fooled and Tom seems to finally realize @ that point that he may not continue this act any more. Tom Ripley and "Marge's" date from the opera are together at the very end of the movie and if you pay close attention, it's not obvious, but Tom kills more than once in this film, he also killed his musical friend...WHY?, I suppose he wanted to continue his life as an imposter! ....However, it was a very clever movie.....
---
Review by Walter Frith (posted on 9-Jun-2007)
Director Anthony Minghella was challenged to come up an encore to his runaway 1996 hit 'The English Patient'. That film won nine Oscars, some of the most in history, and although Minghella will be hard pressed in the minds of many to top that effort, 'The Talented Mr. Ripley' has a curious air of looking like Minghella isn't even attempting to top it and that's a good thing. The same can be said for Quentin Tarantino when he made 1997's 'Jackie Brown', knowing it would never be as good as 'Pulp Fiction', Tarantino didn't try to top it and good directors know their limitations and when their opportunities to exceed present themselves. The only time a director tries to top a previous effort is usually when a previous film is made for commercial reasons and studio interference is instrumental in overkill for its sequel, usually in the case of a splashy, big budgeted action film or a half baked comedy and these films usually have a different director than the original film. Matt Damon. A talented actor and writer. How many of you remember that he DID win as Oscar for 1997's 'Good Will Hunting' as the film's co-author along with Ben Affleck and Damon gave a dynamite, hard edged Oscar nominated performance in it and the same year, played a young and determined lawyer battling the odds in Francis Coppola's 'The Rainmaker'. Damon couldn't have looked more different in those two films and now plays the heavy in a film that asks us to be happy with who we are and to truly not covet anything that belongs to somebody else. Set in the 1950's and based on the novel by Patricia Highsmith, 'The 'Talented Mr. Ripley' has an aristocratic look of Hitchcockian elegance and doomed fate for many of its characters and treats the subject of murder as a chilling and memorable nightmare for the audience and the people up on the screen. Tom Ripley (Matt Damon). We see early that he isn't happy with who he is because he borrows a Princeton University jacket one afternoon for a reception in New York City where he plays the piano and is approached by a rich husband and wife who ask if he ever knew their son Dickie Greenleaf (Jude Law) at Princeton. They offer to pay Tom's expenses to Europe with the hope that he can go to Italy and convince their son to return to America. Tom's trip to the continent of culture is made difficult by his encounter with Dickie. When he does find him, he turns out to be a wholly rude and obnoxious lout. A man who thinks he is too good for his own country and slices through his fortune with great comfort without any appreciation of how he got it (from his rich parents) and treats only his girlfriend Marge (Gwyneth Paltrow) with the slightest amount of courtesy. Key to the plot are two other characters who are in the mix of things to add tension and authenticity to the film's plot. They are a wealthy woman traveling in Europe (Cate Blanchett), who befriends Tom, and Dickie's equally obnoxious peer Freddie Miles (Philip Seymour Hoffman). Matt Damon's performance as Tom Ripley is rather low key but this is a clever choice and decision on the part of both Damon and Minghella for allowing it to be that way since the film's second half has a different and totally appropriate look and we, the audience, are treated to a film with a slow beginning that picks up later rather than one that starts off great and then loses steam. Mingehella uses a very even handed approach to the material and illustrates his characters as a cross between high art and the bankrupt culture of criminal violence and never lets one element rise above the other. His lavish and exquisitely filmed scenes around the European scene are marvelous to watch and director of photography John Seale, who won the Oscar for 'The English Patient', uses lighting as mood swings that look almost as good as the personalities of the film's human contributors. It's almost as if the camera is a character in itself. An unusual and impressive feat that looks original and the film has lethal shots of beauty (and sometimes horror) at almost every turn. The film will have problems however, when it comes to Oscar nominations. Jude Law's character disappears too quickly and Matt Damon has been upstaged this year by too many other good performances. Minghella also will suffer comparisons to 'The Englsih Patient'. It will be a sub-conscious thing with Academy voters who would sing a different tune if this film had not been in the shadow of another so revered. What does all of this add up to? For me, one of the ten best films of 1999 since it pays tribute to great films of the past, has a shocking and unexpected criminal twist for layers of superlative suspense and teaches us all to be happy with who we are, something so many of us have forgotten, often because of our overlearned and under appreciated existences which in many cases are a lot better than we give them credit for. Visit FILM FOLLOW-UP by Walter Frith
---
Do you know something we don't?
Submit a correction or make a comment about this profile

Copyright ©2014 Soylent Communications