It's a Mad Mad Mad Mad World (7-Nov-1963)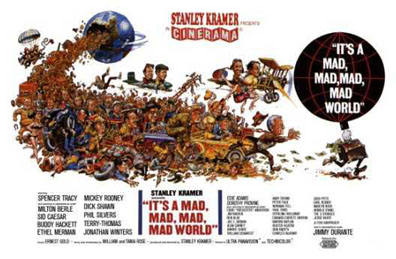 Director: Stanley Kramer
Writers: William Rose; Tania Rose
Producer: Stanley Kramer
Keywords: Comedy, Treasure Hunt
| Name | Occupation | Birth | Death | Known for |
| --- | --- | --- | --- | --- |
| Edie Adams | Actor | 16-Apr-1925 | 15-Oct-2008 | Lover Come Back |
| Eddie Anderson | Actor | 18-Sep-1905 | 28-Feb-1977 | Rochester on The Jack Benny Show |
| Jim Backus | Actor | 25-Feb-1913 | 3-Jul-1989 | Mr. Howell on Gilligan's Island |
| Milton Berle | Comic | 12-Jul-1908 | 27-Mar-2002 | Mr. Television |
| Ben Blue | Actor | 12-Sep-1901 | 7-Mar-1975 | The Big Broadcast of 1938 |
| Joe E. Brown | Actor | 28-Jul-1892 | 6-Jul-1973 | Some Like It Hot |
| Sid Caesar | Comic | 8-Sep-1922 | | Your Show of Shows |
| Alan Carney | Actor | 22-Dec-1909 | 2-May-1973 | Comedy duo, Brown & Carney |
| Barrie Chase | Dancer | 20-Oct-1933 | | Danced with Fred Astaire |
| Lloyd Corrigan | Actor | 16-Oct-1900 | 5-Nov-1969 | Arthur Manleder in Boston Blackie films |
| William Demarest | Actor | 27-Feb-1892 | 28-Dec-1983 | The Great McGinty |
| Andy Devine | Actor | 7-Oct-1905 | 18-Feb-1977 | Adventures of Wild Bill Hickok |
| Selma Diamond | Actor | 5-Aug-1920 | 13-May-1985 | Selma Hacker on Night Court |
| Jimmy Durante | Comic | 10-Feb-1893 | 20-Jan-1980 | Everybody wants ta get inta da act |
| Peter Falk | Actor | 16-Sep-1927 | 23-Jun-2011 | Detective Columbo |
| Norman Fell | Actor | 24-Mar-1924 | 14-Dec-1998 | Mr. Roper on Three's Company |
| Paul Ford | Actor | 2-Nov-1901 | 12-Apr-1976 | The Phil Silvers Show |
| Stan Freberg | Comic | 7-Aug-1926 | | Radio's The Stan Freberg Show |
| Leo Gorcey | Actor | 3-Jun-1917 | 2-Jun-1969 | Bowery Boy |
| Buddy Hackett | Comic | 31-Aug-1924 | 30-Jun-2003 | Abrasive old school comic |
| Sterling Holloway | Actor | 4-Jan-1905 | 22-Nov-1992 | Voice of Winnie the Pooh |
| Edward Everett Horton | Actor | 18-Mar-1886 | 29-Sep-1970 | Prolific 1930s comedic actor |
| Marvin Kaplan | Actor | 24-Jan-1927 | | Henry on Alice |
| Buster Keaton | Actor | 4-Oct-1895 | 1-Feb-1966 | The General |
| Don Knotts | Actor | 21-Jul-1924 | 24-Feb-2006 | Barney Fife on The Andy Griffith Show |
| Charles Lane | Actor | 26-Jan-1905 | 9-Jul-2007 | Grumpy character actor |
| Mike Mazurki | Actor | 25-Dec-1907 | 9-Dec-1990 | Murder, My Sweet |
| Charles McGraw | Actor | 10-May-1914 | 30-Jul-1980 | Armored Car Robbery |
| Ethel Merman | Singer | 16-Jan-1908 | 15-Feb-1984 | There's No Business Like Show Business |
| Zazu Pitts | Actor | 3-Jan-1894 | 7-Jun-1963 | The Wedding March |
| Dorothy Provine | Actor | 20-Jan-1937 | 25-Apr-2010 | The Roaring 20's |
| Carl Reiner | Actor | 20-Mar-1922 | | Your Show of Shows |
| Madlyn Rhue | Actor | 3-Oct-1935 | 16-Dec-2003 | Marjorie Grant on Bracken's World |
| Mickey Rooney | Actor | 23-Sep-1920 | | Actor in Andy Hardy comedies, musicals |
| Dick Shawn | Actor | 1-Dec-1923 | 17-Apr-1987 | Inventor of the "high five" |
| Phil Silvers | Actor | 11-May-1911 | 1-Nov-1985 | You're in the Army Now |
| Arnold Stang | Actor | 28-Sep-1918 | 20-Dec-2009 | Bespectacled character actor |
| Terry-Thomas | Actor | 14-Jul-1911 | 8-Jan-1990 | Private's Progress |
| Spencer Tracy | Actor | 5-Apr-1900 | 10-Jun-1967 | Two consecutive Best Actor Oscars |
| Jesse White | Actor | 3-Jan-1917 | 9-Jan-1997 | The Maytag Repairman, 1967-88 |
| Jonathan Winters | Comic | 11-Nov-1925 | | Mearth, son of Mork |
CAST
REVIEWS
Review by anonymous (posted on 4-Feb-2007)
It's a Mad Mad Mad Mad Morld is a cinematic icon for what once was and sadly is probably forever lost. A very funny comedy, with a plot. One of the movie's strongest attribute is that it is devoid of sex, killing, smutty humor and all else that Hollywood has opted for in recent years. Clean comedy is probably one of the most difficult undertakings in screenplay writing, yet the writers for this movie do it very successfully and maintain it for what is a longer than average amount of time. Couple this with a cast of Hollywood personalities, the caliber of which would probably not be possible to match in this day and age and we get something Stanley Kramer was probably very proud of, as was no doubt, everybody else who contributed to this movie. I love it. Spencer Tracy gets top billing on the list of movie stars but the real star of the show was Ethyl Merman. I can't think of too many movies where an audience (at least this was so for me) loves the antagonist more than any of the other characters in the movie. Another outstanding features of this comedy is that it resorts to a lot of slapstick humor and makes it work brilliantly. Jonathon Winters destroying the garage in the desert is one example. Who can watch that without laughing? And if all this isn't enough, (for men only I suppose) Edie Adams is "drop dead" sexy and gorgeous in this film. I own the DVD and watch it whenever I want a good laugh, or to just go back to a nicer, slower, kinder place in American History.
---
Review by Doug Andersen (posted on 6-Apr-2005)
My father rarely took time away from work to do anything with us kids. The glaring exception was one Friday nite we drove the 3 hrs. or so to Omaha, spent the night at his sisters home then saw the Saturday matinee at this new Cinarama theatre. He had seen It's A Mad Mad Mad Mad World the week before and wanted to share this with us kids. This was a first and a last for us, and it proved to be a lifetime memory that a 12 year old boy never forgets. Of course the screen size was a real stunner for a bunch of small town kids, but what they put up there on it was amazing. These were very funny people. It's difficult to get into one's "favorite" parts or characters, but if forced to, I would have to say that Phil Silvers stoled the show. When he is down in that hole digging for the the 350 G's and making fun of Terry Thomas' accent, I lose it every time. Terry was also a hoot in that Jeep and then the fight with Milton on the roadside. Dick Shawn was never better with his "I'm coming to get you Mama" and "Oooh, I'm gonna nail you man." Of course Buddy Hackett and Mickey Rooney in the plane... Micky -- "Are you trying to scare me?" Buddy -- "No!" Micky -- "Well you did!" In print that is not funny, on the screen, it's a roll on the floor. Sid Caesar's battle with the basement door is a classic. That is the problem with doing a review of this film. There are simply too many classic moments. It's simply got to be seen many times to truly appreciate the comic genious of these people. Most of these actors were not actors at all, they were stand up comics. This was a special moment in time for all of them. I hope they get a special place in heaven for leaving us this masterpiece of comedy.
---
Review by Mark Ellis (posted on 10-Jun-2007)
I first saw this wonderful film when I was three. My brother was baby sitting me and did not want to stay home so off we went to the movies. Now, a three year old would not enjoy a movie like this and I was not different. To be honest, my brother said I fell asleep. It was 12 years later I saw the film again and have been hooked ever since. Stanley Kramer, not known for producing comedy, masterfully put together one of the all time best slapstick comedies. I have played this movie for friends and they would either "get it" or would not. The ones that "got it" have been hooked ever since. Stanley Kramer assembled one of the largest well known cast in Hollywood. In fact, some were stand up comedians getting some of their first film work. Word spread quickly in Hollywood and everyone wanted to be in the project. Ethel Merman, Milton Berle, Sid Ceasar, Edie Adams, Mickey Rooney and Buddy Hacket (just to name a few) all give top notch performances with their own individual comedy styles. But for me, it was Phil Silvers. This movie was made for Phil Silvers and rumor has it that most of his lines were changed at the last moment...by Mr. Silvers. Phil Silvers was always in it for the gag. Like the scene where he drives his convertible into the river. He was offered a stunt double but stated that could take away from the effect so he did the stunt himself and almost drowned because he could not swim! For those who have never seen the film, take 2-3 hours and watch this gem. One of the few movies you can actually watch as a family. Believe me, if you "get it"...you will be hooked for life.
---
Review by anonymous (posted on 20-Jul-2006)
It's a Mad (x4) World was, for lack of a better word, an extravagana. The credits at the beginning (the sawing away of the globe) were a good depiction of what the viewer was in for. I remember hearing the movie was coming out--I must have been about 13 years old at the time--and then waiting for months for it finally to come to my local theater in Youngstown, Ohio. It was well worth the wait. I guess it can best be described as a madcap adventure. The film made sense, in a crazy kind of way . . . there was a beginning, a middle, and an end. The wild car chases--I was and still am kind of a car nut--mesmerized me. But it was the marvelous acting I remember best. The performances were brilliant. Which actor stole the show? It would be hard to say. Naturally some were better than others, but then maybe that's because they had more to do. But one thing is for sure . . . the actors who stood out were very, very good, and those who didn't stand out were . . . well, I guess you could say they just very good. There were no mediocre performances. I'd venture to say you couldn't make that movie today . . . there just aren't that many funny people--people who can conviningly throw themselves into a character and make you laugh in the process--around anymore. I don't know how many times I've seen the movie, but I never pass up a chance to see it as it makes the rounds of cable channels.
---
Review by anonymous (posted on 16-Apr-2006)
I was 16 when this movie came out and living on the island of Guam where my father had taken a job as a school teacher the year before and moved us from Texas. We were living on the North end of the island and my brother and I would hitchhike 5 miles to NCS (Naval Communications Station) almost every evening and sneak in the back gate to see the latest free movies shown to the servicemen stationed there. The gate guard got to know us and thought we were dependants, so he never asked questions. At that time the NCS theater was open to the elements. Hard, bench seats with a small tin awning over the rear. And, as it always rains on Guam… most people always carried a little sheet of plastic to unroll when the brief sprinkles would appear. However, that night it rained hard. Surprisingly, the movie was so wonderful that hardly anybody got up and left. That in itself is a great tribute to this excellent film. Not to mention that my brother and I had to walk the five miles home in the rain and arrived about 2:00 a.m. We were, of course, put on "restriction" for a week. No matter.. the film was worth it! Since the advent of the VCR I and my family have watched this film every Christmas without fail. My children who are grown now all love it and they too show it to their children. Why? Because it is probably the funniest film ever produced. And, one can tell that the comedians and other actors in this film also enjoyed making it. They loved their jobs so-to-speak, and it comes through in wonderfully funny scene after scene. This film took several years to produce and there were many technological "first's" in making it. Although most of the actors have now passed, I salute them all including the producer, the screen writers, the unsung animators, make-up artists, and all the others who worked so tirelessly to make this film truly a comedy classic. This film has brought much happiness to me, my family, and friends and will continue to do so. I know it has brought laughter and happiness to millions the world over who have seen it. When I was in the Ukraine a few years ago, I even saw it with a Russian translation! It's a Mad, Mad, Mad, Mad World proves that great comedy can be done without foul language and gratuitous sex scenes. A film to be proud of… when Hollywood was at it's best.
---
Do you know something we don't?
Submit a correction or make a comment about this profile

Copyright ©2013 Soylent Communications