Saboteur (22-Apr-1942)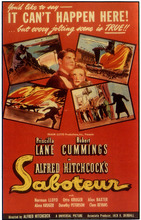 Director: Alfred Hitchcock
Writers: Peter Viertel; Joan Harrison; Dorothy Parker
Musical Score: Frank Skinner
Keywords: Thriller, Unjustly Accused, Nazis




Barry Kane, worker at the Los Angeles Airplane Factory, is framed for arson; he goes on the lam trying to find the real culprits, who are intent on sabotaging the war effort. Light Hitchcock thriller and very much a B-feature, which while entertaining, is too full of holes to be taken seriously.
CAST
REVIEWS
Review by anonymous (posted on 15-Apr-2006)
This is one of my all time favorite films. My favortie movie genre is WWII espionage. So this one fits the bill. It was remade with Cary Grant as "North by Northwest" and also directed by Alfred Hitchcock. The cinematography is really good. The storyline moves along very fast and its full of real Americana characters. I am not a regular fan of Bob Cummings but he is great in this movie. So is Priscila Lane of the 3 Lane sisters. And who could forget Norman Lloyd as he falls from the Statue of Liberty? I have this movie on tape, no I have not switched my film library over to DVD yet. I watch in a lot. It never bores me.
---
Do you know something we don't?
Submit a correction or make a comment about this profile

Copyright ©2016 Soylent Communications