This is a beta version of NNDB
Popeye (12-Dec-1980)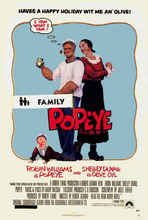 Director: Robert Altman
Writer: Jules Feiffer
Music and Lyrics by: Harry Nilsson
Producer: Robert Evans
Keywords: Musical Comedy, Comic Strip, Popeye




As Popeye searches for his father, in Sweethaven he meets and falls for Olive Oyl, who is inconveniently engaged to be married to the brute, Bluto. They adopt an abandoned baby, Swee'Pea. Live-action musical adaptation of the 1930s comic strip. Quick and sometimes mumbled dialogue; some may wish to turn on captions to catch everything. Filmed on the island of Malta.
CAST
Robin Williams
... Popeye
Shelley Duvall
... Olive Oyl
Co-Starring
Ray Walston
... Poopdeck Pappy
Paul Dooley
... Wimpy
Paul L. Smith
... Bluto
Richard Libertini
... Geezil
Donald Moffat
... The Taxman
MacIntyre Dixon
... Cole Oyl
Roberta Maxwell
... Nana Oyl
Donovan Scott
... Castor Oyl
Allan Nicholls
... Rough House
Wesley Ivan Hurt
... Swee'pea
The People of Sweethaven
Bill Irwin
... Ham Gravy, the Old Boyfriend
Robert Fortier
... Bill Barnacle, the Town Drunk
David McCharen
... Harry Hotcash, the Gambler
Sharon Kinney
... Cherry, His Moll
Peter Bray
... Oxblood Oxheart, the Fighter
Linda Hunt
... Mrs. Oxheart, His Mudder
Geoff Hoyle
... Scoop, the Reporter
Wayne Robson
... Chizzelflint, the Pawnbroker
The Roughhouse Gang
Larry Pisoni
... Chico, the Dishwasher
Carlo Pellegrini
... Swifty, the Cook
Susan Kingsley
... La Verne, the Waitress
Michael Christensen
... Splatz, the Janitor
Ray Cooper
... The Preacher
Noel Parenti
... Slick, the Milkman
Karen McCormick
... Rosie, the Milkmaid
John Bristol
... Bear, the Hermit
The Walfleur Sisters -- The Steinettes
Julie Janney
... Mena
Patty Katz
... Mina
Diane Shaffer
... Mona
Nathalie Blossom
... Blossom
The Toughs
Dennis Franz
... Spike
Alan Autry
... Slug
Ned Dowd
... Butch
Hovey Burgess
... Mort
Roberto Messina
... Gozo
Pietro Torrisi
... Bolo
The Housewives
Margery Bond
... Daisy
Judy Burgess
... Petunia
Saundra MacDonald
... Violet
Eve Knoller
... Min
Peggy Pisoni
... Pickelina
Barbara Zegler
... Daphne
Paul Zegler
... Mayor Stonefeller, the Official
Pamela Burrell
... Mrs. Stonefeller
David Arkin
... The Mailman / Policeman
The Musicians
Klaus Voormann
... Von Schnitzel, the Conductor
Doug Dillard
... Clem, the Banjo Player
Van Dyke Parks
... Hoagy, the Piano Player
Stan Wilson
... Oscar, the Barber
Roberto Dell'Aqua
... The Chimneysweep
Valerie Velardi
... Cindy, the Drudge
Jack Mercer
... Popeye - Animated Prologue (voice)
REVIEWS
Do you know something we don't?
Submit a correction or make a comment about this profile

Copyright ©2014 Soylent Communications
NNDB MAPPER

Anglo-American Power Axes

Requires Flash 7+ and Javascript.
Bibliographies
NNDB has added thousands of bibliographies for people, organizations, schools, and general topics, listing more than 50,000 books and 120,000 other kinds of references. They may be accessed by the "Bibliography" tab at the top of most pages, or via the "Related Topics" box in the sidebar. Please feel free to suggest books that might be critical omissions.