Taxi Driver (8-Feb-1976)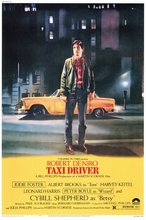 Director: Martin Scorsese
Writer: Paul Schrader
Music by: Bernard Herrmann
Producers: Michael Phillips; Julia Phillips
Keywords: Crime, Prostitution, Taxi, Pimps, New York




Suffering from insomnia, Vietnam War veteran Travis Bickle takes a job as a night taxi driver. Bickle's human interactions leave something to be desired; he takes Betsy, an attractive campaign worker, on an ill-advised date to an X-rated movie. Later he meets Iris, a 12-year-old prostitute played by Jodie Foster, and tries to extricate her from that life. Scorsese's masterpiece of alienation and isolation received Oscar nominations for Best Picture, Best Actor, Best Supporting Actress, and Best Original Score.
[watch trailer]
CAST
Robert De Niro
... Travis Bickle
Starring
Jodie Foster
... Iris
Albert Brooks
... Tom
Harvey Keitel
... Sport
Leonard Harris
... Charles Palantine
Peter Boyle
... Wizard
and
Cybill Shepherd
... Betsy
Diahnne Abbot
... Concession Girl
Frank Adu
... Angry Black Man
Victor Argo
... Melio
Gino Ardito
... Policeman at Rally
Garth Avery
... Iris' Friend
Harry Cohn
... Cabbie in Bellmore
Copper Cunningham
... Hooker in Cab
Brenda Dickson
... Soap Opera Woman
Harry Fischler
... Dispatcher
Nat Grant
... Stick-Up Man
Richard Higgs
... Tall Secret Service Man
Beau Kayser
... Soap Opera Man
Vic Magnotta
... Secret Service Photographer
Robert Maroff
... Mafioso
Norman Matlock
... Charlie T
Bill Minkin
... Tom's Assistant
Murray Mosten
... Iris' Timekeeper
Harry Northup
... Doughboy
Gene Palma
... Street Drummer
Cary Poe
... Campaign Worker
Steven Prince
... Andy, Gun Salesman
Peter Savage
... The John
Martin Scorsese
... Passenger Watching Silhouette
Robert Shields
... Palantine Aide
Ralph Singleton
... TV Interviewer
Joe Spinell
... Personnel Officer
Maria Turner
... Angry Hooker on Street
Robin Utt
... Campaign Worker
REVIEWS
Review by Walter Frith (posted on 7-Jun-2007)
One year after the United States had pulled out of Vietnam and the country had began of new era of recovery. At the tail end of this era, set in a time of one of the worst crime periods in the history of New York City and America in general was Martin Scorsese's 'Taxi Driver'. A landmark film that transformed stomach turning violence into art, confronted social issues many wanted to turn away from and made stars out of many of its cast members. Robert De Niro had already won an Oscar for 1974's 'The Godfather Part II' in the best supporting actor category and 'Taxi Driver' was his first Oscar nomination as best actor. His performance is one of hypnotic gore as he plays Travis Bickle, a taxi driver, and a lonely drifter without family or friends and a man who isn't evil, he just suffers from urban paranoia. He wants to save a 12 year old prostitute (Jodie Foster) from a sleazy life and return her to her parents in Pittsburgh, is tired of all street scum in general (not realizing later on the potential hypocrisy of his actions), and he executes an armed robber while defending a neighbourhood merchant who thanks him and through all of this, believes he is doing the right thing by planning to assassinate a leading candidate running for president. Travis plans the assassination for two reasons: he was scorned by a woman named Betsy (Cybil Sheppard), volunteering her services for the candidate, and to vent his disgust for a man working with her in the same cause (Albert Brooks). Travis draws a great deal of influence from a middle aged cabbie named Wizard (Peter Boyle) but uses that wisdom in a misguided fashion. If 'Taxi Driver' had been made just ten years earlier, it would have received an X rating by the American style of rating movies through the Motion Picture Association of America or it may have been banned altogether. It is still considered to have hard core violence in this the year 2000 and is not the least bit dated. This is Martin Scorsese's first truly great film. It is a landmark achievement. Many would say that Scorsese's first great film is 1973's Mean Streets' but as great a film as it is, it is considered more of a cult film among film historians than a mainstream Hollywood film. 'Taxi Driver' is hardly conventional film making but has garnered probably more controversy than most other films in the last thirty years. Film historian Leonard Maltin only rates it two stars out of four which was truly a surprise when I first read his review and the American Film Institute in 1998 rated it #47 on their top 100 list of greatest films ever made. Scorsese directs many scenes slowly and in a stiff manner, which works perfectly as the terror of its psychological qualities make it a full blooded horror film at times without monsters or elements of the paranormal. Also getting his first big break in this film is Harvey Keitel, who plays a street pimp and is one of the most slimy characters you will ever see in a film. My two favourite scenes in the film are, one, where Travis buys arms from a dealer who also trades in drugs and stolen automobiles. He shows Travis a suitcase full of firearms and Travis' seduction for these deadly weapons transforms him into a full workout mode to get his body into shape and fulfill the fantasies created by the dark side of his mind. The other killer scene actually unfolds several times as Travis performs his assassination rehearsal in front of a mirror where he repeats confrontational lines several times and it is a trademark scene of style that De Niro would uses several times in his career and it works every time. One thing that should be remembered from this film is how devastating the influence of film can be. John Hinckley Jr. said this film made him attempt to kill president Ronald Reagan in order to prove his love to Jodie Foster, who, as mentioned earlier, played a child prostitute in the film. Hinckley attempted to kill Reagan outside a Washington D.C. hotel on March 30, 1981. Reagan at first wasn't believed to have been shot because he didn't feel a thing. After a chest wound was discovered in the presidential limousine, Reagan was then rushed to the hospital and thankfully, made a full recovery. The 53rd annual Oscar telecast was delayed one day, to March 31, out of respect for the president. I've always found it strange that the 1970's, in my view, the most decadent and dreary decade of 20th century America, has produced the greatest films of the the 20th century. 'Taxi Driver' is certainly one of the greatest films ever made, not only because of its sheer attempt to go for the jugular, but because is celebrates a whole host of subjects which were brought to the attention of many who refused to believe or even know they were present in such a vile way within society. And many of Scorsese's small interjections of freakish characters, such as the one he plays as a well dressed man in the back of De Niro's cab who watches his wife in a strange apartment committing adultery and telling Travis how he plans to kill her, give the film the detail it needs and prevents his film from being a low level exploitation film and instead Scorsese elevates it into influential artistry. Visit FILM FOLLOW-UP by Walter Frith
---
Review by Vamsee (posted on 15-Mar-2005)
Travis Bickle (Robert De Niro) is a Vietnam vet who works as a night-time taxi driver in New York City. He disgust for the low-life street thugs and pimps increases day-by-day. He woos Betsy (Cybill Shepherd), Senator Palantine's campaign worker. He screws up their first date by taking her out to a porno movie. Travis is also unsuccessful in persuading a child prostitute, Iris (Jodie Foster) to return to her parents.
Fed up of such a life, Travis buys four handguns and attempts to kill Senator Palantine. After the attempt fails, he now unleashes his hatred on the low-life of New York City.
---
Do you know something we don't?
Submit a correction or make a comment about this profile

Copyright ©2016 Soylent Communications