Charade (5-Dec-1963)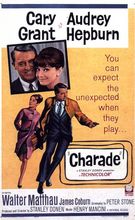 Director: Stanley Donen
Writers: Peter Stone; Marc Behm
Music: Henry Mancini
Producer: Stanley Donen
Keywords: Romantic Comedy, Thriller, Treasure Hunt




United Nations translator Reggie Lambert decides to divorce her husband Charles, but on her arrival in Paris she finds him murdered, and further, he wasn't who she thought he was. Several of Charles' comrades from his OSS days seem to think she knows where $250,000 in looted gold is hidden, obtained when her husband doublecrossed them. Effective romantic comedy thriller which plays out very Hitchcockian. Received an Oscar nomination for Best Original Song.
[watch trailer]
CAST
REVIEWS
Review by Royal J Fuchs (posted on 1-Jan-2008)
Among the top 5 movies that I truly cherish. It has humor, charm, captivating dialog, and suspense. It is well paced and leaves viewers with a most satisfying experience. Henry Mancini's music also contributes significantly to making this film so memorable. "Charade" belongs in everyone's home film library. The recent remake, "The Trouble with Charlie" lacks the attributes of "Charade" noted above with perhaps the exception of suspense. However, to my mind it is worthy of only Two and one half stars.
---
Do you know something we don't?
Submit a correction or make a comment about this profile

Copyright ©2016 Soylent Communications