Duck Soup (17-Nov-1933)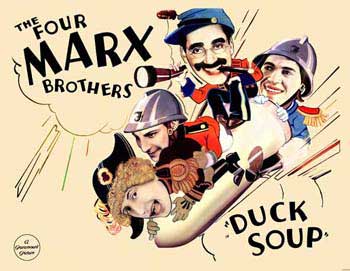 Director: Leo McCarey
Writers: Bert Kalmar; Harry Ruby
Keywords: Comedy




| Name | Occupation | Birth | Death | Known for |
| --- | --- | --- | --- | --- |
| Edmund Breese | Actor | 18-Jun-1871 | 6-Apr-1936 | Duck Soup |
| Louis Calhern | Actor | 19-Feb-1895 | 12-May-1956 | Duck Soup |
| Margaret Dumont | Actor | 20-Oct-1882 | 6-Mar-1965 | Foil to the Marx Brothers |
| Edgar Kennedy | Actor | 26-Apr-1890 | 9-Nov-1948 | Mad Wednesday |
| Chico Marx | Actor | 22-Mar-1887 | 11-Oct-1961 | An Italian con-man of a Marx Brother |
| Groucho Marx | Comic | 2-Oct-1890 | 19-Aug-1977 | You Bet Your Life |
| Harpo Marx | Actor | 23-Nov-1888 | 28-Sep-1964 | Silent harp-playing Marx Brother |
| Zeppo Marx | Actor | 25-Feb-1901 | 30-Nov-1979 | Straight man of the Marx Brothers |
CAST
REVIEWS
Review by Pete (posted on 9-May-2005)
Duck Soup is one of the funniest film of the 1930's. All four of Marx Brothers are in great roles as leaders of countries, advisors, and spys. Duck Soup is a great American classic with a lot of memorable moments, and wisecracks.
---
Review by anonymous (posted on 27-Apr-2006)
Duck Soup was voted one of the top 10 funniest films of all time and is a riot from beginning to end. It is set in the mythical kingdom of Freedonia where Groucho is installed as President, Chico his Secretary of War and Harpo is a spy and peanut seller! Through Grouchos' ineptitude they end up at war with neighbouring Sylvania. Groucho is at his wisecracking best, as usual Chico is a funny straight man and Harpo drifts through the film like a magical pixie. There are many comic routines with the mirror sequence going down into film history. It also stars their marvellous foil Margaret Dumont and the inimitable Edgar Kennedy. Incidentally, Duck Soup is the only one of the Marx Brothers films where Chico and Harpo don't do their musical solo numbers on piano and harp. If you can, open a couple of beers, cook a pizza and sit back and watch an old, black and white, FUNNY film. Then look up Animal Crackers, Horse Feathers and Monkey Business.
---
Do you know something we don't?
Submit a correction or make a comment about this profile

Copyright ©2013 Soylent Communications