Joseph Dennie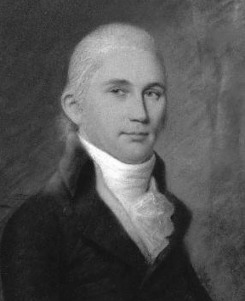 Born: 30-Aug-1768
Birthplace: Boston, MA
Died: 7-Jan-1812
Location of death: Philadelphia, PA
Cause of death: Illness
Remains: Buried, St. Peter's Episcopal Church, Philadelphia, PA

Gender: Male
Religion: Anglican/Episcopalian
Race or Ethnicity: White
Occupation: Journalist
Party Affiliation: Federalist
Nationality: United States
Executive summary: America's Joseph Addison
Journalist, pamphleteer, and man of letters, born 1768 in Boston. He graduated Harvard in 1790, and studied law at Charlestown, New Hampshire, where he was admitted to the bar, but ultimately devoted himself to literature. In 1795 he published a series of essays on life and literature called The Farrago, and edited in Boston The Tablet, a weekly journal. In three months he relocated to Walpole, New Hampshire, where he edited The Farmers' Weekly Museum, which attained much popularity under his management. He gathered around him a number of writers, each of whom contributed to a special department. Among his compositions was The Lay Preacher, a series of essays which gave their author reputation as a graceful and humorous writer, and were widely copied.
In 1798 the publisher became bankrupt, and Dennie was persuaded to become a candidate for Congress. He was defeated, and in 1799 went to Philadelphia to become private secretary to Secretary of State Timothy Pickering. He remained here a few months, and, after editing The United States Gazette, became editor of the Port Folio in Philadelphia in 1801, in connection with Asbury Dickens. This was originally a weekly quarto, but in the course of five years it became a monthly octavo. Dennie continued to be its editor until his death, under the pen name of "Oliver Old School." The staff of able writers, among who were Charles Brockden Brown and John Quincy Adams (whose Letters from Silesia were originally published in it), maintained the Port Folio's high reputation for many years. It was said, after the death of Brockden Brown in 1810, that Dennie was the only man in the country that made literature a profession. But Dennie outlived him by only two years, dying 1812 in Philadelphia from a "mortal illness."
Dennie's appearance was described by Joseph Tinker Buckingham in this manner: "He was rather above the average height, and of slender frame; was attentive to his dress, appearing one May morning at the office in a pea-green coat, white vest, nankeen small-clothes, white silk stockings and pumps, fastened with silver buckles which covered at least half the foot from the instep to the toe." He wrote rapidly, deferring the preparation of his "copy" until the last moment. One of the best of his lay sermons was written at the village tavern, where he and his friends were amusing themselves with cards. It was delivered piecemeal, at four or five different times, and if he happened to be engaged in a game, he would ask some one to play his hand for him while he "gave the devil his due." Dennie founded in Philadelphia the "Tuesday Club," which included most of the contributors to the Port Folio. His work was confined principally to periodicals, but two collections of his writings were published -- The Lay Preacher, or Short Sermons for Idle Readers (Walpole, New Hampshire, 1796), and a volume of The Lay Preacher, collected by John E. Hall (Philadelphia, 1817). He aimed to unite "the familiarity of Franklin with the simplicity of Sterne" in these ingenious essays.
Father: Joseph Dennie (d. 28-Sep-1811)
Mother: Mary Green (d. 6-Sep-1819)

University: Harvard University (1790)

Do you know something we don't?
Submit a correction or make a comment about this profile

Copyright ©2014 Soylent Communications