Florence Henderson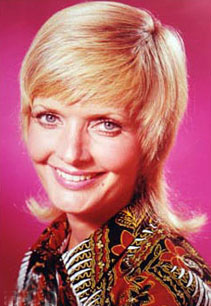 AKA Florence Agnes Henderson
Born: 14-Feb-1934
Birthplace: Dale, IN

Gender: Female
Religion: Roman Catholic
Race or Ethnicity: White
Sexual orientation: Straight
Occupation: Actor, Singer
Nationality: United States
Executive summary: Carol (mom) on The Brady Bunch
As a child growing up during the Depression, Florence Henderson's own family was larger than the Brady clan: She was the last of ten children born to a sharecropper and his wife. Henderson's mother taught her to sing, and at age two she had a repertoire of 50 songs. At 8, Henderson was working in her father's fields, and by 12 she was singing at the local store for groceries. With financial assistance from a schoolmate's parents she attended the American Academy of Dramatic Arts. At age 18 she made her Broadway debut, and two years later she was the original Fanny on stage.
In 1969 Henderson took the role of Carol, the mother on The Brady Bunch. She wanted to make Carol a bit more realistic, begging the studio to let the character have a job, but her request was refused. The actor who played her stepson Greg, Barry Williams, had a crush on her (reportedly the flames were liberally fanned with marijuana) and they went on a "date". As a married Catholic, Henderson of course did not consider the event to be a romantic one.
Following the end of The Brady Bunch and its many sequels and subsequent Brady series, Henderson worked as a cabaret singer and supplemented her income with commercials for Wesson Oil. She began to experience stage fright as her first marriage ended in the mid-1980's, and turned to hypnosis to conquer her fears. She soon fell in love with her therapist, John Kappas, married him, and studied hypnotherapy, even becoming a hypnotherapist herself.
During the 50s, after experiencing pain following dancing, she was diagnosed as having deformed vertebrae, which was treated by exercise. She later suffered loss of hearing caused by otosclerosis, which was repaired with surgery. She also suffers from osteoporosis, and has said she endured a bout of crabs after a brief fling with New York City Mayor John Lindsay in the 1960s.[1]
---
[1] Florence Henderson, in her memoir Life Is Not a Stage: From Broadway Baby to a Lovely Lady and Beyond (2010). See also Rich Shapiro, "Brady Bunch Mom Florence Henderson Admits Ex-Mayor John Lindsay Gave Her Crabs in One-Night-Stand", New York Daily News, 26 June 2011, the story based on pre-publication copies of Henderson's memoir.

Father: (sharecropper)
Mother: (housewife)
Husband: Ira Bernstein (Broadway backstage figure, m. 9-Jan-1956, div. 1985, four children)
Son: Joseph (b. 1950)
Daughter: Barbara (b. 1956)
Son: Robert (b. 1963)
Daughter: Elizabeth ("Lizzie", b. 1966, with Bernstein)
Slept with: New York Mayor John Lindsay (one-night stand in the late 1960s, according to her)
Husband: John Kappas (hypnotist, m. 4-Aug-1987, d. 26-Sep-2002 cancer)


High School: St. Francis Academy, Owensboro, Kentucky (1951)


4-H Club
Delta Zeta Sorority
Hollywood Walk of Fame 7070 Hollywood Blvd
Endorsement of Pepsi (2003)
Endorsement of Polident denture cream
Endorsement of ConAgra Wesson cooking oil (1983-88)
Risk Factors: Depression, Aviophobia


TELEVISION
Dancing with the Stars Contestant (2010)
The Brady Bunch Carol Brady (1969-74)
Today Today Girl (1959-60)
The Jack Paar Show Herself (1958-62)


FILMOGRAPHY AS ACTOR
Fifty Shades of Black (28-Jan-2016)
Venus & Vegas (Nov-2010)
The Christmas Bunny (2010)
Dickie Roberts: Former Child Star (3-Sep-2003) · Herself
Get Bruce (24-Jan-1999) · Herself
Holy Man (9-Oct-1998) · Herself
The Brady Bunch Movie (17-Feb-1995) · Grandma Brady
The Naked Gun 33 1/3: The Final Insult (18-Mar-1994) · Herself
Shakes the Clown (13-Mar-1992)
A Very Brady Christmas (18-Dec-1988)
Just a Regular Kid: An AIDS Story (9-Sep-1987)
The Brady Girls Get Married (6-Feb-1981)
Song of Norway (4-Nov-1970)


Author of books:
Life Is Not a Stage: From Broadway Baby to a Lovely Lady and Beyond (2011, memoir)





Requires Flash 7+ and Javascript.



Do you know something we don't?
Submit a correction or make a comment about this profile






Copyright ©2016 Soylent Communications