GoldenEye (17-Nov-1995)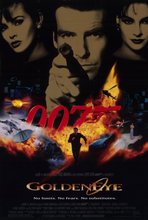 Director: Martin Campbell
Writers: Jeffrey Caine; Bruce Feirstein; Michael France
Music by: Eric Serra
Producers: Michael G. Wilson; Barbara Broccoli
Keywords: Action/Adventure, James Bond, Cuba, Loose Nukes, Explosions




James Bond teams with a pretty Russian computer programmer to investigate the destruction of a military satellite station in Siberia, finding that a rogue Russian General has stolen an EMP control unit, and whose employer intends to use it in a revenge attack against London. After a six-year legal hiatus to the screen (a period including the collapse of the Soviet Union), Pierce Brosnan revitalizes the franchise.
[watch trailer]
CAST
REVIEWS
Review by Theodore Johnson (posted on 18-Mar-2005)
All Bond films are usually good, heartstopping films. GoldenEye of 1995 was no exception.
Starring Pierce Brosnan as Bond himself and Minnie Driver as Bond's sidekick from the Soviet Union, they're on a mission to thwart plans to target London with a plot and satellite namely GoldenEye.
It starts when Bond arrives at a destination and finds out one piece of a massive jigsaw. The only setback is that his helper, 006 (Sean Bean) dies in the process. But things take a nasty turn, after arriving in Russia, meeting Robbie Coltrane and a few others on the way, he comes across 006, who Bond thought was gunned down at the start. But Bond discovers 006 was in the GoldenEye all along.
Thus, an epic battle begins. Will Bond thwart the double-crosser, or will he die at the hands of a once-thought-friend?
There is pure adventure at its best here. And there's so much lead that if it was installed in your body you'd become a pencil.
---
Do you know something we don't?
Submit a correction or make a comment about this profile

Copyright ©2019 Soylent Communications