Sideways (13-Sep-2004)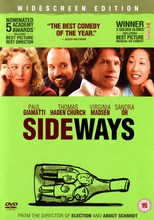 Director: Alexander Payne
Writers: Alexander Payne; Jim Taylor
From novel by: Rex Pickett
Music Composed by: Rolfe Kent
Producer: Michael London
Keywords: Drama




Two frustrated middle-aged men set out on an emotionally-charged trip through California's wine country.
ABSTRACT
Miles is a San Diego English teacher hampered by his past failures as a writer; best friend Jack is a fledgling television actor forever struggling to break through into recognizable roles on the cusp of marriage. Interested in taking his pal on one last bachelor's expedition before his wedding, Miles plans for a trip through California's wine country, setting the stage for a critically-adored character piece about two disaffected men attempting to find purpose in life amidst lush landscapes and memories of shattered dreams.
CAST
Paul Giamatti
... Miles
Thomas Haden Church
... Jack
Virginia Madsen
... Maya
Sandra Oh
... Stephanie
Marylouise Burke
... Miles's Mother
Jessica Hecht
... Victoria
Missy Doty
... Cammi
M. C. Gainey
... Cammi's Husband
Alysia Reiner
... Christine Erganian
Shaké Toukhmanian
... Mrs. Erganian
Duke Moosekian
... Mike Erganian
Robert Covarrubias
... Miles's Building Manager
Patrick Gallagher
... Gary the Bartender
Stephanie Faracy
... Stephanie's Mother
Joe Marinelli
... Frass Canyon Pourer
Chris Burroughs
... Chris at Stanford
Toni Howard
... Evelyn Berman-Silverman
Rev. Fr. Khoren Babouchian
... Armenian Priest
Lee Brooks
... Ken Cortland
Peter Dennis
... Leslie Brough
Alison Herson
... Foxen Winery Pourer
Phil Reeves
... Vacationing Dr. Walt Hendricks
Rob Trow
... Obnoxious Golfer
Lacey Rae
... Los Olivos Waitress
Cesar "Cheeser" Ramos
... Barista
Daniel Rogers
... Reciting Eighth Grader
Natalie Carter
... Siena
Simon Kassis
... Mini-Mart Owner
Sevag Kendirjian
... Armenian Deacon
Jaren Coler
... Acoustic Guitarist
REVIEWS
Review by anonymous (posted on 8-Jun-2006)
When I saw the trailers for this movie, I was expecting a comedy that was a little "raunchier", so when I saw it in the theatre, I was sort of disappointed. However, after watching it again, knowing what kind of comedy it is, I found it rather enjoyable.
---
Do you know something we don't?
Submit a correction or make a comment about this profile

Copyright ©2019 Soylent Communications