Shall We Dance? (15-Oct-2004)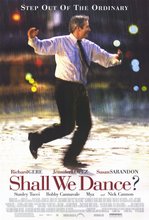 Director: Peter Chelsom
Writer: Audrey Wells
Keywords: Romantic Comedy




Remake of the 1996 Japanese film of the same name tells of a disaffected lawyer's secret obsession with ballroom dancing.
ABSTRACT
Remake of Shall We Dance? (1996). John Clark, a successful, happily-married lawyer drifting away from his complacent existence, impulsively signs up for dancing lessons one night when a beautiful woman's gaze out a window catches his eye on a train ride home from work. John's teacher turns out to be an older woman; worse, the enigmatic beauty, named Paulina, dissuades John by telling him he should focus on dance instead of fishing for a date. Despite these initial hiccups, John develops a legitimate love for ballroom dancing, eventually forced to make a tough decision about his future as his passion remains hidden from his friends and coworkers.
REVIEWS
Review by Frank (posted on 27-Feb-2005)
First, Jlo is an excellent singer and good to above averge actor. As to her assets, they are large and many. You and most critics are too harsh on her.
The movie was fun and humorous to watch. It had no dirty words, no nude or bloody, gory scenes. Wow! It was just a simple, enjoyable escapism type film about a married man who sought an escapism venture. It ended happily! Wow!! And, the main character, Gere, professed his undying love for his spouse, Susan S., who, as many wives do when they have children and a career, places her spouse and his needs number 20 on a list where three... two children and work... are one, two and three in that order. Numbers 4-19 are anything related to the top three priorities.
While most may think it to be a "chick flick", it really is a man's fantasy, albiet a clean one.
---
Do you know something we don't?
Submit a correction or make a comment about this profile

Copyright ©2019 Soylent Communications