The Day They Robbed the Bank of England (3-Sep-1960)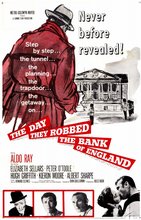 Director: John Guillermin
Writers: Howard Clewes; Richard Maibaum
From novel: The Day They Robbed the Bank of England by John Brophy
Music Composed and Conducted by: Edwin Astley
Producer: Jules Buck




Turn-of-the-century Irish Republican Army rebels enlist the help of an American engineer to assist in a daring plan to steal all of the gold from the Bank of England's basement vaults. Delightful low-budget British caper film, slow at times but with above par acting, including a young Peter O'Toole.
| Name | Occupation | Birth | Death | Known for |
| --- | --- | --- | --- | --- |
| Hugh Griffith | Actor | 30-May-1912 | 14-May-1980 | Sheik Ilderim in Ben-Hur |
| Andrew Keir | Actor | 3-Apr-1926 | 5-Oct-1997 | Quatermass and the Pit |
| John Le Mesurier | Actor | 5-Apr-1912 | 15-Nov-1983 | Dad's Army |
| Kieron Moore | Actor | 5-Oct-1924 | 15-Jul-2007 | The League of Gentlemen |
| Peter O'Toole | Actor | 2-Aug-1932 | 14-Dec-2013 | Lawrence of Arabia |
| Aldo Ray | Actor | 25-Sep-1926 | 27-Mar-1991 | The Green Berets |
| Albert Sharpe | Actor | 15-Apr-1885 | 13-Feb-1970 | Darby O'Gill and the Little People |
CAST
REVIEWS
Review by Frank E Gibbard (posted on 1-Jun-2005)
Just watched this on Satellite TCM: a sterling effort by all concerned. Great old British MGM staple. Good acting all round by stalwarts the American star and I think very early Peter O'Toole eclipsing him somewhat in a pivotal if minor role of an indolent officer at the Bank. Terrific cameo by the old Irish actor as the sewer expert to lead the way underground.
Bags of tension during the heist though you know they cannot get away. A bit of a quick denoument though, to my mind a silent exchange of looks and no last words left me unfulfilled but unsurprised as an easy option for the writer. All the same a splendid piece I would thoroughly recommend.
---
Do you know something we don't?
Submit a correction or make a comment about this profile

Copyright ©2019 Soylent Communications