House of Sand and Fog (19-Dec-2003)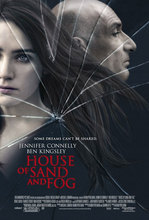 Director: Vadim Perelman
Writers: Vadim Perelman; Shawn Lawrence Otto
From novel: House of Sand and Fog by Andre Dubus III
Music by: James Horner
Producers: Michael London; Vadim Perelman
Keywords: Drama




A woman wrongfully evicted from her home seeks revenge against the house's new residents.
ABSTRACT
Emotionally damaged Kathy is wrongfully evicted from her home, left homeless when the property is repossessed and auctioned off. Coming to her aid is sympathetic sheriff's deputy Lester, a man whose harassment of new occupant Behrani and family alongside its old tenant meets a terrible end when Behrani makes his intentions to "flip" the house at great profit for his family clear.
CAST
Jennifer Connelly
... Kathy
Ben Kingsley
... Behrani
Ron Eldard
... Lester
Frances Fisher
... Connie Walsh
Kim Dickens
... Carol Burdon
Shohreh Aghdashloo
... Nadi
Jonathan Ahdout
... Esmail
Navi Rawat
... Soraya
Carlos Gomez
... Lt. Alvarez
Kia Jam
... Ali
Jaleh Modjallal
... Yasmin
Samira Damavandi
... Little Soraya
Matthew Simonian
... Little Esmail
Namrata S. Gujral-Cooper
... Wedding Guest
Al Faris
... Wedding Guest
Mark Chaet
... Wedding Guest
Marco Rodriguez
... Mendez
Al Rodrigo
... Torez
Aki Aleong
... Tran
Joyce Kurtz
... Kathy's Mom
Scott N. Stevens
... County Official
Ken Kerman
... Locksmith
Scott Kinworthy
... Deputy Trainee
Tom Benick
... Hotel Security
Samuel Hart
... Elevator Man
Jackie Ahdout
... Elevator Woman
Spencer Garrett
... Auctioneer
Cooper Thornton
... Gary
Isabelle James
... Teenage Girl
Bonita Friedericy
... Motel Manager
David Carrera
... Carpenter
Michael Papajohn
... Carpenter
Joe Howard
... Appraiser
Aaron Frazier
... Courier
Dan Brinkle
... Husband (Buyer)
Yan Lin
... Wife (Buyer)
Andre Dubus III
... Myers
Max Jansen Weinstein
... Nate
Ashley Louise Edner
... Bethany
Ray Abruzzo
... Frank
Tom Reynolds
... Gas Station Worker
Jose Vasquez
... Arresting Officer
Matt Waite
... Arresting Officer
Pamela Shaddock
... Nurse
Frank Gallego
... Prison Guard
Karl Makinen
... Officer at End
Zoran Radanovich
... Sergei
Markus Baldwin
... Young Husband
Brian Reed Garvin
... Fat Man
Dennison Samaroo
... Doctor
Elton Ahi
... Wedding Singer
Shani Rigsbee
... Wedding Singer
Andy Madadian
... Wedding Singer
REVIEWS
Review by Kandy McKinney (posted on 9-Jun-2011)
This is not a feelgood movie. What I find so interesting is that the premise is about a bureaucratic screw up at a tax office in the city of San Francisco. Things go quickly downhill from there. It's a great movie and the characters are very well developed. If I say anymore about this movie I will give it away. Suffice it to say, it shows how one little mistake can bring down an entire house of cards.
---
Do you know something we don't?
Submit a correction or make a comment about this profile

Copyright ©2019 Soylent Communications