A Matter of Life and Death (1-Nov-1946)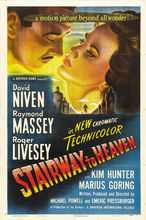 Directors: Michael Powell; Emeric Pressburger
Writers: Michael Powell; Emeric Pressburger
Music Composed by: Allan Gray
Producers: Michael Powell; Emeric Pressburger
Keywords: Fantasy, Romantic Drama, Courtroom




RAF bomber pilot Peter Carter's airplane is on fire and his parachute destroyed; he has a final conversation with June, an American air controller, before jumping to his death. But he wakes up alive on Lee Wood Beach, reconnects with June and they fall in love. In Heaven, it is another story. Conductor 71 lost Peter in the fog, and failed to collect his soul; Peter demands a trial in the celestial court. Film made by request of the British Ministry of Defence to bolster Anglo-American friendship. Alternatively titled Stairway to Heaven.
CAST
REVIEWS
Review by Ted Salins (posted on 5-May-2007)
The greatest opening sequence in film history, ever. This sequence, which takes place in a burning plane about to crash into the North Sea during World War Two, has a conversation between the soon to be dead pilot and a very concerned and sympathetic radio operator - a textbook example of how to start a film. If you don't care to watch the rest of the movie after this viscerally and visually stunning opening - you have ice in your veins. That the rest of the film doesn't disappoint is a tribute to the oddball genius of Michael Powell and Emeric Pressberger. They broke rules so often, they were disgraced from English film industry and Powell was vanished to America where he lived out his years as an unoffical mentor to Thelma Schoonmaker, George Lucas, Francis Coppola, Steven Speilberg and Marty Scorcese - such was his influence so ahead of it's time. "A MATTER OF LIFE AND DEATH" clearly forshadows the works of Lucas, Speilberg and Monty Python with its mix of realist wonderment, fantasy and science fiction. I won't tell what happens to the pilot or anything else about this marvelous film - just the opening. It's up to you to leave your reality for a few hours and enjoy this wonderous ride.
---
Review by Anonymous (posted on 1-Sep-2007)
The whole idea and the actors make this film absolutely brilliant. Marius Goring and Raymond Massey had the best parts. I loved the others as well including David Niven and Roger Livesey but they did not have the best roles this time. Roger Livesey is one of my favourites. He was especially brilliant as Colonel Blimp. If there is a biography of him I would like to know now.
---
Review by John McAloon (posted on 14-May-2007)
Powell and Pressburgers crowning achievement.Filmed in both colour and black and white, it tells the story of a young Airman (David Niven) during World War 2. Returning from a mission in a fatally damaged aircraft, he is left with no choice but to crash with the plane, or jump (no parachute). He makes radio contact with a young female radio operator (Kay Walsh). He converse's with her prior to jumping from the plane to what he expects to be certain death. The scene switches to him being washed ashore , and he thinking he is in Heaven, starts to look around. He meets with the girl he was speaking to on the raio and realises that he has somehow survived. They fall in love but things become complicated when an agent is sent to bring him to Heaven as he was meant to. He disputes this and a heavenly court convenes to decide his fate. This wonderfully fimed movie has a sterling cast, expertly produced and directed by Powell and Pressburger, is a film I would recommend anyone who is a lover of a good old fashioon film to see.
---
Do you know something we don't?
Submit a correction or make a comment about this profile

Copyright ©2019 Soylent Communications