The Reluctant Debutante (14-Aug-1958)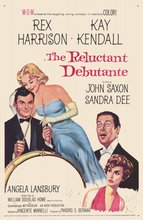 Director: Vincente Minnelli
Writer: William Douglas-Home
From a play: The Reluctant Debutante by William Douglas-Home
Dance Music and Arrangements by: Eddie Warner and His Orchestra
Producer: Pandro S. Berman
Keywords: Romantic Comedy




American teenager Jane Broadbent visits her aristocratic father and stepmother in London, and they decide to present her as a debutante to British society at their equivalent of a cotillion. But Jane will have none of this; she meets and falls for band member John Saxon. Sandra Dee's role was originally cast to Debbie Reynolds. Kay Kendall was already suffering from undiagnosed leukemia at the time of filming.
CAST
REVIEWS
Review by anonymous (posted on 1-Apr-2006)
I have been a Kay Kendall fan for as long as I can remember, the first time I ever saw her was when "Simon and Laura" was shown on t.v. one Sunday afternoon in the 1960s when I was in my teens and I was just so taken by her glamour and elegance and her enormous skill as a film comedienne which is a very difficult thing to do. And oh, that sexy voice! I remember feeling extremely sad when I asked who she was and my mother replied: "Kay Kendall, she's dead now." It just didn't seem possible, there she was so vibrant and alive on our small black and white screen, no colour t.v. in those days (though I have seen this film in colour several times since) but inspite of my feeling of sadness, I waited eagerly for more of her films to come on t.v. But to "The Reluctant Debutante", I saw this film recently at the National Film Theatre in London and, as always, in spite of the excellent performances from the other cast members, including of course Kay's husband Rex Harrison and Angela Lansbury, who unfortunately is not given that much to do, I found myself just watching Kay. From the moment she appeared in that oversized hat and dark red clothes, she just took over the screen, lighting it up and mesmerising me in the process. In a way, she is like a latter day Carole Lombard, updated to the 1950s, adept at screwball comedy but with an air of sophisticated womanhood that few other stars of that era have been able to match. And in The Reluctant Debutante, the talent that she nurtured through "Genevieve", "Simon and Laura" and her only Hollywood film, "Les Girls" in which she displayed a talent for song and dance - with Gene Kelly, no less - all came together in this film. Falling through doorways, jumping about, it is hard to believe she was desperately ill at the time. Indeed, even though the film is hugely enjoyable and entertaining, it is heartbreaking to watch Kay in "The Reluctant Debutante" knowing she had but a short time to live. When I saw the film at the NFT recently, it was almost a full house, too, which was very pleasing. How many of today's stars will be able to still pack a cinema in fifty years' time long after they have died? It is proof indeed that I am not the only one who adores Kay, thus ensuring this lovely talented lady will never be forgotten. Her tragic death at so young an age is all the more poignant on account of that talent and her warm feminine personality. Her grave is in St. John's Churchyard in Hampstead in north London, not far from where I live and there seems to be an anomaly concerning her date of birth. A lot of records give it as 21st May 1926, as you do, and film guides quote this year as well but her tombstone definitely says 21st May 1927. She lies peacefully in this quiet little churchyard in London opposite another actor, Anton Walbrook of "Gaslight" and "Dangerous Moonlight" fame.
---
Do you know something we don't?
Submit a correction or make a comment about this profile

Copyright ©2019 Soylent Communications