Oliver Twist (28-Jun-1948)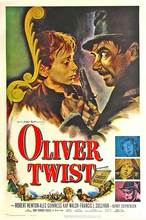 Director: David Lean
Writers: David Lean; Stanley Haynes
From novel: Oliver Twist by Charles Dickens
Music Composed by: Arnold Bax
Producer: Ronald Neame
Keywords: Drama, Pickpocket




Oliver Twist's mother died in childbirth at a poorhouse; he is raised at an orphanage, and then sold to apprentice with an undertaker. Following an argument he runs away and falls in with Fagin's gang of street urchin pickpockets. Arrested, Oliver is befriended by Mr. Brownlow, who looks into his family history, while Fagin demands his return. David Lean's sumptuous adaptation of this classic Dickens tale remains unmatched.
CAST
Starring
Robert Newton
... Bill Sykes
Alec Guinness
... Fagin
Kay Walsh
... Nancy
Francis L. Sullivan
... Mr. Bumble
with
Henry Stephenson
... Mr. Brownlow
Mary Clare
... Mrs. Corney
Anthony Newley
... Artful Dodger
Josephine Stuart
... Oliver's Mother
Ralph Truman
... Monks
Kathleen Harrison
... Mrs. Sowerberry
Gibb McLaughlin
... Mr. Sowerberry
Amy Veness
... Mrs. Bedwin
Diana Dors
... Charlotte
Frederick Lloyd
... Mr. Grimwig
and
John Howard Davies
... Oliver Twist
Henry Edwards
... Police Official
Ivor Barnard
... Chairman of the Board
Maurice Denham
... Chief of Police
Michael Dear
... Noah Claypole
Michael Ripper
... Barney
Peter Bull
... Landlord of "Three Cripples"
Deidre Doyle
... Mrs. Thingummy
Kenneth Downy
... Workhouse Master
W. G. Fay
... Bookseller
Edie Martin
... Annie
Fay Middleton
... Martha
Graveley Edwards
... Mr. Fang
John Potter
... Charlie Bates
Maurice Jones
... Workhouse Doctor
Hattie Jacques
... Singer at "Three Cripples"
Betty Paul
... Singer at "Three Cripples"
REVIEWS
Do you know something we don't?
Submit a correction or make a comment about this profile

Copyright ©2019 Soylent Communications