The Fish That Saved Pittsburgh (21-Nov-1979)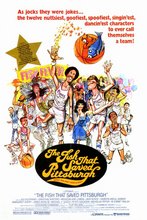 Director: Gilbert Moses
Writers: David Dashev; Jaison Starkes; Edmond Stevens; Gary Stromberg
Music: Thom Bell
Producers: David Dashev; Gary Stromberg
Keywords: Sports Comedy, Basketball, Astrology, Spoof




The entire Pittsburgh Pythons team, the worst in all basketball, quits with the exception of Moses Guthrie, played by Julius Erving. Towel boy convinces the manager that astrologically, everyone on the team should be a Pisces. Open tryouts are held; you can guess the rest. Big afros, disco/R&B soundtrack.
REVIEWS
Review by anonymous (posted on 10-May-2006)
I am looking for this film on DVD, I've searched and searched and have not been able to come across it. This movie was so funny as a young girl, my best friend and I would love when it came on TV (pre VCR times for us) and we would memorize all the lines in the movie and continuosly imitate the lady shouting "Bullet, Bullet, Bullet". It would be interesting to see this films after almost 30 years.
---
Do you know something we don't?
Submit a correction or make a comment about this profile

Copyright ©2019 Soylent Communications