Batman (30-Jul-1966)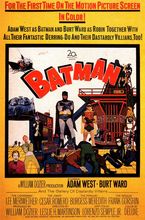 Director: Leslie H. Martinson
Writer: Lorenzo Semple Jr.
Music by: Nelson Riddle
Producer: William Dozier
Keywords: Action/Comedy, Comic Book, Batman, United Nations, Penguins




The dynamic duo must face a "United Underworld" of the world's greatest super villains: The Penguin, The Joker, The Riddler, and Catwoman. The four villains lure Batman into a trap as they attempt to extort billions from world governments with their dehydrated leaders hostage. Filmed in the campy style of the original TV series.
| Name | Occupation | Birth | Death | Known for |
| --- | --- | --- | --- | --- |
| Reginald Denny | Actor | 20-Nov-1891 | 16-Jun-1967 | English actor and RC airplane popularizer |
| Frank Gorshin | Actor | 5-Apr-1933 | 17-May-2005 | The Riddler in Batman |
| Neil Hamilton | Actor | 9-Sep-1899 | 24-Sep-1984 | Commissioner Gordon on Batman |
| Burgess Meredith | Actor | 16-Nov-1908 | 9-Sep-1997 | Rocky and Grumpy Old Men |
| Lee Meriwether | Actor | 27-May-1935 | | Miss America 1955 |
| Alan Napier | Actor | 7-Jan-1903 | 8-Aug-1988 | Alfred on Batman |
| Cesar Romero | Actor | 15-Feb-1907 | 1-Jan-1994 | The Joker on Batman |
| Burt Ward | Actor | 6-Jul-1946 | | Robin the Boy Wonder |
| Adam West | Actor | 19-Sep-1928 | 9-Jun-2017 | Batman |
CAST
REVIEWS
Do you know something we don't?
Submit a correction or make a comment about this profile

Copyright ©2019 Soylent Communications