The Departed (4-Oct-2006)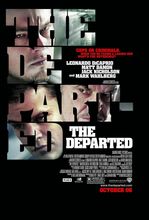 Director: Martin Scorsese
Writer: William Monahan
Keywords: Crime, Bad Cops, Undercover Cops, Organized Crime




An undercover cop working to infiltrate a gang and gang-affiliated mole in the police force attempt to identify and expose each other.
ABSTRACT
Irish organized crime is under siege in South Boston, with undercover cop Billy Costigan leading the charge to infiltrate a gang fronted by notorious boss Frank Costello. At much the same time, Colin Sullivan, a criminal and gang-affiliated operative, finds himself tasked with existing as a "mole" in the Boston police force's Special Investigations Unit, leading to an ordeal in which two men increasingly consumed by their respective double lives must work to expose one another before time runs out, potentially destroying the lives of real and unlikely friends made in the process.
[watch trailer]
REVIEWS
Review by anonymous (posted on 14-Oct-2006)
Martin Scorsese's the Departed was absolutely eyes glued to the screen entertaining. This non stop action drama is Scorsese's best picture since Casino. Being that I have had to consistently take my girlfriend to the movies for the past four months, I have a pretty good idea of the crap thats been coming out these days. I have to say when I heard about the Departed having Matt Damon and Leonardo Dicaprio in it I raised my expectations because I thought Scorsese was getting soft on us. Ten minutes into the movies I forgot all about the pretty boy crap and was getting flashbacks to Bobby Deniro and Nikki Santoro beating the hell outta gangster greasballs. The movie is as violent as any of his films if not more. But the story itself was a return to Scorsese's classic formula that has most hollywood directors scratching there heads. Don't be misled however, this film is absoloutley not him trying to remake Goodfellas as many suspected. The script is fresh and original but has all the Scorsese elements in there too. The best thing about this movie is the plot twists and turns. Unlike Martin's predescessors, you don't see it coming anymore when people are getting wacked. Most movies no matter how discreet nowadays are fairly easy to figure out who's going to live and die. The Departed leaves you feeling uncomfortable at times becuase you really don't know whats going to happen next. The ending however not what you expect, couldn't have been any better. So I reccomend The Departed to any real movie fan, not just Martin's diehards. Anyone who loves film and can stand a little Boston style violence will love the Departed. FOUR out of FOUR stars.
---
Do you know something we don't?
Submit a correction or make a comment about this profile

Copyright ©2019 Soylent Communications