The Brave Little Toaster (10-Jul-1987)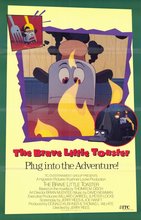 Director: Jerry Rees
Writers: Thomas M. Disch; Brian P. McEntee; Joe Ranft; Jerry Rees
From novel: The Brave Little Toaster: A Bedtime Story for Small Appliances by Thomas M. Disch (juvenile)
Keywords: Juvenile




Five household appliances abandoned in a cottage embark on an epic, arduous cross-country journey to locate their master, a young boy. This often overlooked Disney animated feature was actually produced by Hyperion Pictures, an outside studio; Disney did not provide creative input. Two sequels followed, The Brave Little Toaster to the Rescue (1997) and The Brave Little Toaster Goes to Mars (1998).
| Name | Occupation | Birth | Death | Known for |
| --- | --- | --- | --- | --- |
| Phil Hartman | Actor | 24-Sep-1948 | 28-May-1998 | Lionel Hutz, Troy McClure |
| Jon Lovitz | Comic | 21-Jul-1957 | | Yeaaaah, that's the ticket! |
| Thurl Ravenscroft | Actor | 6-Feb-1914 | 22-May-2005 | Voice of Tony The Tiger |
REVIEWS
Review by Sean Stephens (posted on 12-Apr-2008)
This film came out when my kids were small and we ended up buying them a commercial VHS tape of it. I was incredulous at first, but after one viewing I realized that it is a genuine gem. The kids loved it. It's the quintessential hero's journey, but the cleverness of the characters (household appliances in a summer cabin trying to get back to their owners in the city) is simply the most endearing twist I've seen to this device in a long time. The musical score is great and almost becomes another character (the score to the opening scene is breath taking). Adults can enjoy this film, but the best is cuddling up with your six-year-old twins; there's something for everyone!
---
Do you know something we don't?
Submit a correction or make a comment about this profile

Copyright ©2019 Soylent Communications