Pleasantville (17-Sep-1998)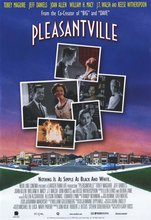 Director: Gary Ross
Writer: Gary Ross




A pair of 1990s teenage siblings are transported, with the help of a peculiar TV remote control, into the 1950s sitcom Pleasantville, a complacent world without seasons, controversy, or sexual adventure. Their modern moralities and worldviews begin to color those they come in contact with. Is return to real life even possible? Received Oscar nominations for Best Set Decoration, Best Costume Design, and Best Dramatic Score. Also received a Hugo nomination for Best Dramatic Presentation.
REVIEWS
Review by Michael Seden-Hansen (posted on 20-Mar-2009)
Pleasentville focuses on two very different siblings, David and Jennifer (Tobey Maguire and Reese Witherspoon), who are transported to a strange old world. Jennifer is a fliratious tennager adept at the ins and outs of high school romance, and looking forward to her next hot date. David is socially marginal, unhappy with the grim worldview presented in school (AIDS, global warming, dim career prospects) and his distant, divorced parents, and is looking forward to an upcoming marathon of his favorite TV show, Pleasantville, a 50's family sitcom set in a squeaky-clean community of unfissionable nuclear families. With a bit of quasi-magical intervention by a jovial and enigmatic TV repairman (Don Knotts) David and Jennifer suddenly find themselves transported to Pleasntville, inhabiting the roles of Bud and Mary Sue, the siblings of the show's central family. Struggling to make sense of the situation in this black-and-white world, and aided by David's encyclopedic knowledge of the town and its residents, they try to inhabit their new roles in hopes of finding an eventual escape, and avoiding creating a calamity of disruption in the meantime. The latter proves unavoidable, as their inability to adhere (intentionally or unintentionally) to the sanitized, regimented conventions of Pleasantville cause its clockwork perfection to start to unravel, and color to start appearing in the once monochromatic, insular town, and they soon find themselves championing the change against some unexpected reactions from some of the locals. Like "The Truman Show", with Jim Carrey as the only inhabitant of the town of Seahaven unaware that it's actually a massive set, Pleasantville uses an unreal setting to get at important truths; were the good old days really so good? Is a perfectly predictable life berift of unpleasantries worth living? What could we learn about ourselves if we're willing to step outside the familiar? Add the underlying subtext to the film's simple fun of spoofing TV show conventions, a host of great supporting roles (including J.T. Walsh, in his final role), and the technical spectacle of mixing black and white with color as the town transforms, and you have a very memorable filmgoing experience.
---
Review by toagt (posted on 19-Feb-2005)
This is one of the best US movies i've seen since american beauty. I'm definitly going to see Seabiscuit. The metaphor shown to us by Mr. Ross, about modern society, is only to be defined by one word: Beautiful. This is the first movie I've seen from this producer; it made me a great admirer of his work.
Keep it up. One coloured rose will change the world.
---
Do you know something we don't?
Submit a correction or make a comment about this profile

Copyright ©2019 Soylent Communications