Frailty (17-Nov-2001)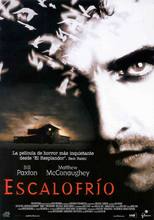 Director: Bill Paxton
Writer: Brent Hanley
Keywords: Horror




A young man relates a horrific tale of religiously-motivated murder to an FBI agent searching for a serial killer.
ABSTRACT
Wesley Doyle, FBI agent assigned to investigate a serial killer known only by the nickname "God's Hand", is visited by Texas man Fenton Meiks with a tantalizing lead on the mysterious case. Fenton believes his brother, Adam, to be the "God's Hand" killer, a suspicion evidently aroused by Adam's suicide after complaining of a world overrun with "demons"; through flashbacks, viewers are treated to a story of young Adam and Fenton living under the roof of a father gone mad, possessed one night by a message from God endorsing the killing of "demons" in his midst. Back in the present, Doyle is subjected to a spine-tingling twist when he is convinced of Fenton's story and agrees to drive him to Adam's supposed resting place.
REVIEWS
Review by mizi causevic (posted on 13-Feb-2005)
Ahh finally! A movie like Frailty does not come around frequently, believe me when I say that this is one of the best unknown flicks around. Also noteworthy is that this is a big screen directorial debut from Bill Paxton (Twister, Apollo 13, A Simple Plan) who really impressed me on various levels, I always enjoyed seeing him on the big screen as an actor but now that I know what he is capable of, I am sure that I will enjoy him in whatever future project he might be attached to.
This movie gives you one of those *old-school* horror/thriller moody feelings. It is set in present day but it is told through flashbacks of the late 1970s. We are introduced to the Meiks family, Dad Meiks is a typical Texan who takes care of his two boys, Adam & Fenton, all by himself. They do not seem like a regular religious family until one day Dad Meiks wakes up and tells his sons that an Angel appeared in his dream and told him to serve God by killing Demons disguised as humans. One of the sons, Adam thinks this is very cool and sees his father as a superhero, but Fenton thinks that his father has lost his mind and that this whole idea is absurd. He is against it from the get go but this does not stop his dad from doing what he must do, kill those who are demons. So, with a single touch, Dad Meiks can tell what that person has done and after that, yep, he kills them. So needless to say, young Fenton freaks out and tries to go up against his father but that does not go all too well, without giving anything else away, I suggest that you rent this movie and watch it carefully because you are in for a really good treat. Movies like this don't come around every day, see why!
---
Do you know something we don't?
Submit a correction or make a comment about this profile

Copyright ©2019 Soylent Communications