Dracula 2000 (22-Dec-2000)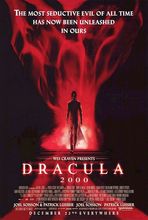 Director: Patrick Lussier
Writers: Joel Soisson; Patrick Lussier
Music by: Marco Beltrami
Producers: W. K. Border; Joel Soisson




Loose modern-day adaptation of Bram Stoker's classic vampire tale follows art thieves as they inadvertently release a Count bent on revenge against the Van Helsings.
ABSTRACT
Abraham Van Helsing in the present day is an ageless vampire hunter, using Count Dracula's blood to stay alive for years after remanding him to Carfax Abbey, now hidden away inside an office building. A group of thieves intending to steal invaluable art inadvertently bring Dracula back to life; stronger than ever and with an axe to grind against the man responsible for his supernatural incarceration, the Count heads to New Orleans, engaging in an all-out battle with Mary Van Helsing.
CAST
Jonny Lee Miller
... Simon Sheppard
Justine Waddell
... Mary Heller
Gerard Butler
... Dracula
Colleen Ann Fitzpatrick
... Lucy
Jennifer Esposito
... Solina
Danny Masterson
... Nightshade
Jeri Ryan
... Valerie Sharpe
Lochlyn Munro
... Eddie
Sean Patrick Thomas
... Trick
with
Omar Epps
... Marcus
Christopher Plummer
... Abraham Van Helsing
Tig Fong
... Dax
Tony Munch
... Charlie
Shane West
... JT
Nathan Fillion
... Fr. David
Tom Kane
... Anchor Man
Jonathan Whittaker
... Gautreaux
Robert Verlaque
... Dr. Seward
Randy Butcher
... Stakeman #1
Bill Davidson
... Stakeman #2
Peter Cox
... Stakeman #3
Chris Lamon
... Stakeman #4
Herb Reischl
... Stakeman #5
Duncan McLeod
... Stakeman #6
Wayne Downer
... Desk Guard
Robert Racki
... Door Guard
William Prael
... Parade Cop
Karon Briscoe
... Teen Co-Worker
Scarlett Huntley
... Blood Doll
Harold Short
... Black Angel of Death
David J. Francis
... Jesus
Shimmy Silverman
... Barker
REVIEWS
Review by anonymous (posted on 24-Jan-2007)
So the other night I was settling onto the sofa with some chocolate and a lovley warm cup of coffee and I'm channel hopping. To my delight I see that a vampire movie is on, so being the eager bat I am, I settle down to watch it. Sadly though it was not up to my expectations. The main idea in the movie was flawed, drastically. Even though I'm sure the writer thought it was a great idea, really unique and fresh, it lacks realism. Yes we all know vampires aren't real, but vampire movies should, no have to, make us think they are. Aside from my joy at seeing Nathan Fillion, there was little this movie had to offer. Dracula has sex!? No, the whole point of vampires is that, they can't do that!! Hello... Van Helsing is not only alive in our time, but has a daughter...who is also dracula's daughter... No. Just no. The music lacked any integrityy, making the already slow moving pace slower. The ending was nonsense and the vampires themselves were badly done. I didn't believe Dracula, he just bored me. A character who is supposed to strike fear into the hearts of the bravest bored me...Queen of the damned had more to offer! Bad movie. Avoid it, stick with Bram Strocker.
---
Do you know something we don't?
Submit a correction or make a comment about this profile

Copyright ©2019 Soylent Communications