The Notebook (20-May-2004)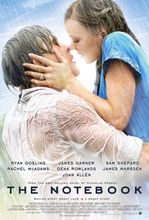 Director: Nick Cassavetes
Writers: Jeremy Leven; Jan Sardi
From novel: The Notebook by Nicholas Sparks
Music Composed by: Aaron Zigman
Producers: Mark Johnson; Lynn Harris
Keywords: Romantic Drama




Film adaptation of the Nicholas Sparks novel of the same name follows a romance between a man and a woman from different backgrounds.
ABSTRACT
Told within the frame of an elderly man relating a story from his notebook to a fellow nursing-home patient in the present day, The Notebook traces the tale of an unlikely romance between hillbilly Noah Calhoun and socialite Allie Hamilton in early-1940s South Carolina. Differences in socioeconomic standing rule the day for the once-happy couple in this formulaic love story, as Noah's intention to serve in World War II and Allie's parents' intense distaste for his "country boy" upbringing present tough-to-conquer obstacles as time wears on.
[watch trailer]
CAST
Ryan Gosling
... Noah
Rachel McAdams
... Allie
James Garner
... Duke
Gena Rowlands
... Allie Calhoun
James Marsden
... Lon Hammond
Kevin Connolly
... Fin
David Thornton
... John Hamilton
Jamie Anne Brown
... Martha Shaw
Heather Wahlquist
... Sara Tuffington
with
Sam Shepard
... Frank Calhoun
Joan Allen
... Anne Hamilton
Tim Ivey
... Rower
Starletta DuPois
... Nurse Esther
Anthony-Michael Q. Thomas
... Nurse Keith
Ed Grady
... Harry
Renée Amber
... Nurse at Counter
Jennifer Echols
... Nurse Selma
Geoffrey Knight
... Barker
Andrew Schaff
... Matthew Jamison III
Matt Shelly
... Seabrook Boy
Michael D. Fuller
... Seabrook Boy
Jonathan Parks Jordan
... Seabrook Boy
Leslea Fisher
... Seabrook Girl
Jude Kitchens
... Tommy the Ferris Wheel Operator
Tim O'Brien
... Mr. Tuffington
Meredith O'Brien
... Mrs. Tuffington
Cullen Moss
... Bodee
Traci Dinwiddie
... Veronica
Pat Leonard
... Lt. Davis
Kweli Leapart
... Willa
James Middleton
... Aaron
Frederick Bingham
... Postman
Daniel Czekalski
... Recruitment Officer
Peter Rosenfeld
... Professor
Bradley D. Capshaw
... Injured Soldier
James Scott Deaton
... Injured Soldier
Eve Kagan
... Sarah Lawrence Girl
Stephanie Wheeler
... Sarah Lawrence Girl
Erin Guzowski
... Sarah Lawrence Girl
Obba Babatundé
... Band Leader
Chuck Pacheco
... Bus Driver
John A. Cundari
... Maitre D
Hugh Robertson
... Pastor
Robert Washington
... Elgin
Todd Lewis
... Reporter
Mark Johnson
... Photographer
Robert Fraisse
... Buyer #1
Barbara Weetman
... Buyer #2
Dan Chamblin
... Buyer #3
Sasha Azevedo
... Wife of Buyer #3
Robert Ivey
... Dressmaker
Rebecca Koon
... Aunt Georgia
Sandra W. Van Natta
... Aunt Jeanette
Deborah Hobart
... Aunt Kitty
Lindy Newton
... Heather Lynn
Sherril Turner
... Linda Jean
Sylvia Jefferies
... Rosemary
Mark Garner
... Lon's Employee
Scott Ritenour
... Lon's Employee
Milton Buras
... Lon's Employee
Elizabeth Bond
... Lon's Secretary
Matt Barry
... Dr. Barnwell
Nancy De Mayo
... Mary Allen
Meredith Zealy
... Maggie
Julianne Keller Lewis
... Davanee
Madison Wayne Ellis
... Noah, Jr.
Riley Novak
... Edmond
Ronald Betts
... Male Nurse
REVIEWS
Review by someone (posted on 17-Apr-2009)
This movie is absolutely amazing. I just found out that Ryan Gosling, who plays Noah, is Rachel McAdams' real life boyfriend. I'm so thrilled for them as on-screen they were absolutely brilliant partners. They had such a connection on The Notebook so it's no surprise that they are actually a couple. I hope and pray that they will star in another movie together, because The Notebook would never have been the hit it was without them playing the parts of Noah and Allie. I'm sure everyone who has watched this film noticed the amazing bond between Allie and Noah and for some reason it just makes me so glad to know that they are partners off-screen. I love that popular scene from The Notebook where Allie and Noah kiss in the rain. It deserved to win the MTV best kiss award in 2004, without a doubt, and I'm very happy that it did so. The Notebook is my favorite love film of all time. You would be mad not to love it. I wish all the best to Rachael McAdams and Ryan Gosling and hope that they remain a couple. It is just such a happy ending.
---
Review by Trace B. (posted on 12-Feb-2005)
AWESOME MOVIE! Finally something decent. Original yet timeless. I came upon this site after wondering why I hadn't seen these talented actors in anything else. I look forward to seeing more of Rachel McAdams and Ryan Gosling. Great casting, I don't think anybody could have told this story better than those two. I bought the movie as soon as it hit the shelf. My grandfather died of Alzheimer's in 1982 and my grandmother made herself see this film and she loved it as well. AWESOME!
---
Do you know something we don't?
Submit a correction or make a comment about this profile

Copyright ©2019 Soylent Communications