Perfect Strangers (15-Oct-1945)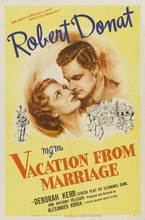 Director: Alexander Korda
Writers: Clemence Dane; Anthony Pelissier
Music Composed by: Clifton Parker
Producer: Alexander Korda
Keywords: Romantic Drama, WWII




An married British couple who have fallen into a rut are both called to active service during WWII, he to the Royal Navy and she as a WREN. Three years later they reunite, and the pair barely recognize each other. Won an Oscar for Best Original Story. Titled Vacation from Marriage in the United States.
| Name | Occupation | Birth | Death | Known for |
| --- | --- | --- | --- | --- |
| Roland Culver | Actor | 21-Aug-1900 | 29-Feb-1984 | Dead of Night |
| Robert Donat | Actor | 18-Mar-1905 | 9-Jun-1958 | Goodbye, Mr. Chips |
| Glynis Johns | Actor | 5-Oct-1923 | | Winifred Banks in Mary Poppins |
| Deborah Kerr | Actor | 30-Sep-1921 | 16-Oct-2007 | From Here to Eternity |
| Ann Todd | Actor | 24-Jan-1909 | 6-May-1993 | The Sound Barrier |
CAST
REVIEWS
Review by Ruth Rossin (posted on 26-Apr-2007)
This movie was also released in the U.S. under the title, "Vacation From Marriage", which is a much better title. It concerns a rather dull couple who has grown bored with their humdrum routine. It is pre-WWII England and when the war starts the husband announces that he's going into the Navy as an officer. He is soon off to war in, I believe, Asia. His wife, now free to do what she wants, enlists in the WRENS, the women's naval service. Her closest friend is another WREN, played by the delightful Glynis Johns, with her unmistakable voice. As you might expect, both husband and wife come to life in their new duties, adjusting to new places, people, and danger. In these circumstances it's not surprising that eventually both fall in love with people they're working with in dramatic times. When the war ends and they are demobbed, each plans to leave the other for the new love but wonders how they'll break the news that they want a divorce, expecting the news to devastate the poor old fuddy-dud who's being left - who will be lost on their own. It's been years since they've seen each other, and each returns home to be amazed by the change in the other. The dashing naval officer and the self-confident and beautiful WREN are now eminently desirable to each other. The new loves are forgotten and their marriage begins anew. The husband and wife are played by Robert Donat ("Goodbye Mr. Chips") and the glorious Deborah Kerr, before her discovery by Hollywood. The black-and-white film is perfect for this interesting and rather light-hearted story. As usual in the British movies, the supporting cast is rich in fine characters.
---
Review by Jerry King (posted on 15-Jun-2007)
This movie is worth watching just to see Deborah Kerr and Glynis Johns at age twenty-three and twenty-two respectively. I've seen many Deborah Kerr movies and was always struck by her natural, but rare, beauty. Glynis Johns bowled me over. Her looks, voice and jaunty personality were captivating. The transformation of the husband and wife were profound, but believable. I've always been impressed by the dimly lit scenes in English black and white movies and this was another fine example. I've just seen this movie on cable and I intend to buy it immediately. It is a keeper.
---
Do you know something we don't?
Submit a correction or make a comment about this profile

Copyright ©2019 Soylent Communications