Oliver! (26-Sep-1968)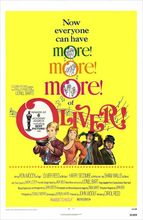 Director: Carol Reed
Writer: Vernon Harris
From novel: Oliver Twist by Charles Dickens
Book, Music, and Lyrics by: Lionel Bart
Producer: John Woolf
Keywords: Musical, Pickpocket




An orphan leaves his pauper's work house and is cultivated by Fagin as a pickpocket. Oliver Twist brought to the screen as a musical. Won Oscars for Best Picture, Best Director, Best Score, Best Set Decoration and Best Sound, plus an honorary Oscar to Onna White for achievement in choreography; received 6 additional nominations including Best Actor and Supporting Actor, Best Cinematography and Best Screenplay.
[watch trailer]
| Name | Occupation | Birth | Death | Known for |
| --- | --- | --- | --- | --- |
| Kenneth Cranham | Actor | 12-Dec-1944 | | Shine on Harvey Moon |
| Hugh Griffith | Actor | 30-May-1912 | 14-May-1980 | Sheik Ilderim in Ben-Hur |
| Megs Jenkins | Actor | 21-Apr-1917 | 5-Oct-1998 | The History of Mr. Polly |
| Mark Lester | Actor | 11-Jul-1958 | | Oliver! |
| Ron Moody | Actor | 8-Jan-1924 | 11-Jun-2015 | Fagin in Oliver Twist |
| Peggy Mount | Actor | 2-May-1916 | 13-Nov-2001 | George and the Dragon |
| Oliver Reed | Actor | 13-Feb-1938 | 2-May-1999 | Lion of the Desert |
| Leonard Rossiter | Actor | 21-Oct-1926 | 5-Oct-1984 | The Fall and Rise of Reginald Perrin |
| Harry Secombe | Actor | 8-Sep-1921 | 11-Apr-2001 | Neddie Seagoon on The Goon Show |
| Jack Wild | Actor | 30-Sep-1952 | 1-Mar-2006 | Oliver! |
CAST
Ron Moody
... Fagin
Shani Wallis
... Nancy
Oliver Reed
... Bill Sikes
Harry Secombe
... Bumble
Joseph O'Conor
... Mr. Brownlow
Peggy Mount
... Mrs. Bumble
Hylda Baker
... Mrs. Sowerberry
Megs Jenkins
... Mrs. Bedwin
Leonard Rossiter
... Sowerberry
James Hayter
... Mr. Jessop
Sheila White
... Bet
Kenneth Cranham
... Noah Claypole
Hugh Griffith
... Magistrate
Mark Lester
... Oliver
Jack Wild
... The Artful Dodger
Wensley Pithey
... Dr. Grimwig
Elizabeth Knight
... Charlotte
Fred Emney
... Chairman -- Workhouse
Edwin Finn
... Pauper -- Workhouse
Roy Evans
... Pauper -- Workhouse
Norman Mitchell
... Arresting Policeman
Fagin's Boys
Robert Bartlett
... Fagin's Boy
Graham Buttrose
... Fagin's Boy
Jeffrey Chandler
... Fagin's Boy
Kirk Clugeston
... Fagin's Boy
Dempsey Cook
... Fagin's Boy
Christopher Duff
... Fagin's Boy
Nigel Grice
... Fagin's Boy
Ronnie Johnson
... Fagin's Boy
Nigel Kingsley
... Fagin's Boy
Robert Langley
... Fagin's Boy
Brian Lloyd
... Fagin's Boy
Peter Lock
... Fagin's Boy
Clive Moss
... Fagin's Boy
Ian Ramsey
... Fagin's Boy
Peter Renn
... Fagin's Boy
Billy Smith
... Fagin's Boy
Kim Smith
... Fagin's Boy
Freddie Stead
... Fagin's Boy
Raymond Ward
... Fagin's Boy
John Watters
... Fagin's Boy
REVIEWS
Review by Sheila Wynn (posted on 7-Apr-2008)
I enjoyed this musical tremendously. It was wonderful and down through the years I have memorized most of the songs. I still have my ticket stub from 1968 when my high school English teacher took me and 5 other classmates to see this musical. Oliver is a winner and an exceptional film. All of the characters were great and did a very good job acting. I was secretly hoping this film would win over Romeo and Juliette (which I saw also in the same year).
---
Review by John Mailer (posted on 19-Feb-2005)
Oliver! is a musical rendition of the 1948 classic Oliver Twist but it is agreeable that Oliver! is one of the few examples of a remake being better than the original.
The plot is simple: the musical tells the tale of a boy, named Oliver (Mark Lester) who is discovered by the apprehentice of an aging mentor of pickpockets, the Artful Dodger (Jack Wild).
When the Dodger takes Oliver in, the main character discovers his new home is in the slums. Taken in immediately by robber Fagin, played to perfection by Ron Moody, his psychopathic henchman, Bill Sikes (Oliver Reed), and Sikes' loved one (or is she?), Nancy (Shani Wallis). When he ends up briefly going into the custody of the police, he discovers an unexpected, yet wanted treasure: a family of his own.
With a great plot, and great songs to go with (e.g. Consider Yourself, Pick a Pocket or Two, Reviewing the Situation), Oliver! is highly recommended, with a rating of 10/10.
---
Do you know something we don't?
Submit a correction or make a comment about this profile

Copyright ©2019 Soylent Communications