The Letter (22-Nov-1940)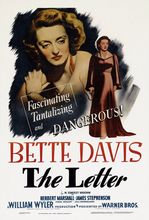 Director: William Wyler
Writer: Howard Koch
From a play: The Letter by W. Somerset Maugham
Music by: Max Steiner
Producer: William Wyler




Leslie Crosbie, wife of a plantation overseer in colonial Malaysia, shoots her lover to death in cold blood and makes a case for self-defense. She is believed but the contents of a letter she had written to the victim luring him to the scene may prove her undoing. Received 7 Oscar nominations including Best Picture, Best Director, Best Actress, Best Supporting Actress, Best Cinematography and Best Original Score.
[watch trailer]
| Name | Occupation | Birth | Death | Known for |
| --- | --- | --- | --- | --- |
| Bette Davis | Actor | 5-Apr-1908 | 6-Oct-1989 | All About Eve |
| Frieda Inescort | Actor | 29-Jun-1901 | 26-Feb-1976 | A Place in the Sun |
| Cecil Kellaway | Actor | 22-Aug-1893 | 28-Feb-1973 | Guess Who's Coming to Dinner |
| Doris Lloyd | Actor | 3-Jul-1896 | 21-May-1968 | British-American character actress |
| Herbert Marshall | Actor | 23-May-1890 | 22-Jan-1966 | Foreign Correspondent |
| Gale Sondergaard | Actor | 15-Feb-1899 | 14-Aug-1985 | Anthony Adverse |
| Victor Sen Yung | Actor | 18-Oct-1915 | 9-Nov-1980 | Hop Sing on Bonanza |
CAST
REVIEWS
Review by Edward S. Cooney (posted on 13-Apr-2009)
An outstanding black and white film made during a time when the world was already plunging headlong into world war and excellent movies were one of the few escapes from the reality of the horrors of the time. Ms. Davis and the entire cast, all long since deceased, left us with a reminder that films can be intense and realistically portray a great story which can be very entertaining even though it contains hints of adulterous conduct as well as murders but omits the raw sex and graphic blood letting so common in films of 2009. The Letter ranks among one of the best of all time and was produced in an era when audience imaginations were part of film enjoyment. The Letter is a film that really sells itself and stands on its own as a great work in all respects and the proof is that the film is still being shown 69 years after it was released.
---
Do you know something we don't?
Submit a correction or make a comment about this profile

Copyright ©2019 Soylent Communications