Scary Movie 3 (20-Oct-2003)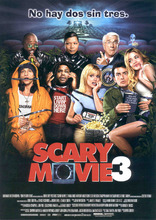 Director: David Zucker
Writers: Craig Mazin; Pat Proft
Music by: James L. Venable
Producer: Robert K. Weiss
Keywords: Horror/Comedy, Spoof




Television reporter Cindy Campbell investigates two seemingly unconnected stories: crop circles appearing near Washington, DC, and a videotape that causes deaths a week after viewing. Parody of The Ring (2002), Signs (2002), and 8 Mile (2002), with some The Matrix (1999) trilogy for good measure. Familiarity with the underlying material is required. Second sequel to Scary Movie (2000), with David Zucker taking over from Wayans to direct.
[watch trailer]
CAST
Anna Faris
... Cindy
Anthony Anderson
... Mahalik
Leslie Nielsen
... President Harris
Camryn Manheim
... Trooper Champlin
Simon Rex
... George
Pamela Anderson
... Becca
Jenny McCarthy
... Kate
Darrell Hammond
... Fr. Muldoon
Kevin Hart
... CJ
D. L. Hughley
... John Wilson
Ja Rule
... Agent Thompson
Drew Mikuska
... Cody
Jeremy Piven
... Ross Giggins
George Carlin
... Architect
featuring
Queen Latifah
... Aunt ShaNeequa
special appearance by
Eddie Griffin
... Orpheus
with
Regina Hall
... Brenda Meeks
Charlie Sheen
... Tom
Ajay Naidu
... Sayaman
Simon Cowell
... Himself
Tim Stack
... Carson Ward
Diane Klimaszewski
... Diane
Elaine Klimaszewski
... Elaine
Fat Joe
... Himself
Master P
... Himself
Dame Lee
... Rapper #1
Macy Gray
... Herself
Method Man
... Himself
Redman
... Himself
Raekwon
... Himself
The RZA
... Himself
U-God
... Himself
Marny Eng
... Tabitha
Jianna Ballard
... Sue
Dexter Bell
... Toilet Guy
Doron Bell, Jr.
... Rapper #2
Denise Richards
... Annie
William Taylor
... Mr. Meeks
Patricia Idlette
... Mrs. Meeks
David Edwards
... Ralph
Frank C. Turner
... Mr. Meek's Brother
Monica Dillon
... Brenda's Grandmother
Lori Stewart
... Tabitha's Mother
Jim Bremner
... Guy in Chair
Phil Dornfeld
... Tabitha's Voice
Edward Moss
... MJ
Deejay Jackson
... Zubie
Troy Yorke
... Alien #1
Marco Soriano
... Alien #2
Cliff Solomon
... Native American #1
Byron Chief-Moon
... Native American #2
Dolly Madsen
... Native American #3
John Hainsworth
... Tracheotomy Man
Beverley Breuer
... Tracheotomy Wife
Jessie Young
... Girl Scout
Deanne Henry
... Tammy Fae Baker
Eric Breker
... Secret Serviceman Jones
Naomi Lawson-Baird
... Sweet Tabitha
Abigail Adams
... Wedding Guest
Puppeteers
Tom Woodruff, Jr.
... Puppeteer
Yuri Everson
... Puppeteer
Alec Gillis
... Puppeteer
Todd Masters
... Puppeteer
Adam Behr
... Puppeteer
Frank Meschkuleit
... Puppeteer
Jim Rankin
... Puppeteer
Luman Coad
... Puppeteer
REVIEWS
Review by John Mailer Jr (posted on 13-Sep-2005)
This film, in my opinion, was an absolutely fabulous comedy -- but that's me. Again, like its predesscors, Scary Movie 3 winds up horror films, this time round The Ring (2002), Signs (2002), and another one, who's name escapes me. The movie follows a plotline involving the same main character -- Cindy Campbell -- from the other two films, trying to find the connection between a mysterious killer video tape and crop circles, with the possibility of an alien invasion. Many big-time rappers, including U-God and Fat Joe, make guest star appearances. Even Simon Cowell makes a guest appearance, in a scene where he insults gangsta rappers -- and is then shot dead. If you happen to like silly, daft laughs, this is your kind of thing.
---
Do you know something we don't?
Submit a correction or make a comment about this profile

Copyright ©2019 Soylent Communications