The More the Merrier (26-Mar-1943)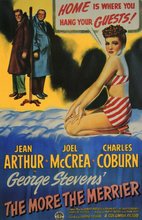 Director: George Stevens
Writers: Richard Flournoy; Lewis R. Foster; Frank Ross; Robert Russell
Music by: Leigh Harline
Producer: George Stevens
Keywords: Romantic Comedy, Washington DC




The housing crisis at the height of WWII brings Connie Milligan to sublet half of her single apartment; her new tenant sublets half of his sublet to a younger soldier. Largely forgotten romantic comedy. Charles Coburn won an Oscar for Best Supporting Actor; received additional nominations for Best Picture, Best Actress, Best Director, Best Original Story and Best Screenplay.
| Name | Occupation | Birth | Death | Known for |
| --- | --- | --- | --- | --- |
| Jean Arthur | Actor | 17-Oct-1900 | 19-Jun-1991 | Only Angels Have Wings |
| Bruce Bennett | Actor | 19-May-1906 | 24-Feb-2007 | Played Tarzan in 1930s movie serials |
| Charles Coburn | Actor | 17-Jun-1877 | 30-Aug-1961 | The More the Merrier |
| Richard Gaines | Actor | 23-Jul-1904 | 20-Jul-1975 | Double Indemnity |
| Joel McCrea | Actor | 5-Nov-1905 | 20-Oct-1990 | Ride the High Country |
| Frank Sully | Actor | 17-Jun-1908 | 17-Dec-1975 | Character actor |
CAST
REVIEWS
Review by WOBBA (posted on 18-Jun-2005)
I am a big fan of old black and white movies made in the 1930's and 1940's. I recently saw this film for the first time and it is hilarious. Charles Coburn was great, he won an Oscar for Best Supporting Actor for this film and its very easy to see why. He was a riot. This movie is sort of advanced for its day, giving rise to the new found sexual freedom of Americans during and after World War II. It clearly portrayed the women as man hungry during the shortage of available men during the war. I have always found Charles Coburn entertaining, but he outdid himself in this one. Jean Arthur and Joel McCrea were the two stars of the film who ended up sharing a small apartment during the housing shortage in the Washington, D. C. area immediately after World War II. Coburn pulls a few strings and throws them together and in true movie fashion, they fall madly in love. I have seen a lot of films from Hollywood's Golden Era, but I had missed this one and was glad to see a film that was new to me. I am an old movie buff and I enjoyed it throughly.
---
Do you know something we don't?
Submit a correction or make a comment about this profile

Copyright ©2019 Soylent Communications