Doctor Zhivago (22-Dec-1965)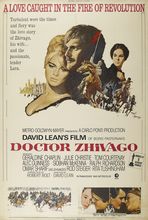 Director: David Lean
Writer: Robert Bolt
From novel: Doctor Zhivago by Boris Pasternak
Original Music Composed and Conducted by: Maurice Jarre
Producer: Carlo Ponti
Keywords: Romantic Drama




Poet and physician Yuri Zhivago takes a lover, Lara, during the Bolshevik Revolution. Story told in flashback to Tanya, who is likely their daughter. Won Oscars for Best Adaptation, Best Cinematography, Best Set Decoration, Best Costume Design and Best Original Score; received 5 additional nominations including Best Picture, Best Supporting Actor, and Best Director.
CAST
REVIEWS
Review by anonymous (posted on 7-Sep-2006)
Fresh off his amazing accomplishment that was "Lawrence of Arabia", David Lean tackles Boris Pasternak's Nobel Prize-winning novel about love, death, and chaos in Russia. The result is a film that is a treat to watch, though not quite a masterpiece as Lean's proceeding two works were. The plot focuses on Doctor Yuri Zhivago (Omar Sharif), a romantic Russian doctor/poet who finds his life turned upside by the onset of the Russian Revolution of 1917 and the ensuing chaos. Though he is happily married to Tonia (Geraldine Chaplin), his step-sister and daughter of a petite bourgeois (Ralph Richardson), he can't help but allow his eye to be attracted to Lara (Julie Christie), a beautiful Russian widow who has lost her husband (Tom Courtenay) in the chaos of World War I. The story is helped along by narration and a framing device (not present in the book) involving, decades later, the search by Yuri's brother Yevgraf (Alec Guinness) for the daughter of Lara and Yuri, presumed to be The Girl (Rita Tushingham). Pasternak's 500+ page novel is a long but worthwhile read. It deserves credit for its intricate, effective interweaving of historical/political context, and the more personal/romantic parts of Zhivago's life. Understandably, a film of watchable length could not easily incorporate all this wholesale. The film does try, but is not always successful. The first "half" of the film (up to the intermission) is astonishing. All of our main characters are introduced, and we are also treated to such interesting supporting characters as Pasha (Courtenay), Lara's aforementioned husband, an idealistic revolutionary who becomes the fearsome Bolshevik leader Strelnikov; Victor Komarovsky (Rod Steiger), a sleazy aristocrat who has designs on Lara; and Kostoyed Amoursky (a young Klaus Kinski), a crazed anarchist. Most of the film's most iconic, memorable scenes also are present here: the peaceful demonstration which turns into a bloodbath; Lara's deflowering by Komarovsky and her revenge; the horror of World War I; the confrontation between Russian deserters and arrogant officers; and the long train ride to the Urals. The second half of the film, however, is not nearly as good, as it settles into its romance between Yuri and Lara. While the historical elements of the plot are still present (Yuri's confrontation with Strelnikov - a lot different than the book's version - and his forced service with a group of Red Partisans), they are very briefly dealt with and given short shrift. This would not be in and of itself a problem, except (at least in this writer's view) Lara and Yuri's passion for each other is never particularly believable; they don't have a lot of chemistry, and thus their relationship never really affected the present author. This is neither the fault of Sharif or Christie, who do what they can with the scenes, but more likely screenwriter Robert Bolt. There are still a lot of memorable sights and images (the "ice palace" in Varynkino and Yuri's lengthy quest home through the snowy Siberian countryside), but the end of the film does not measure up to the first half. The direction is brilliant. David Lean and cinematographer Freddie Young really were geniuses at their respective jobs, and do a brilliant job of recreating turn-of-the-century Russia (in scenes filmed primarily in Spain and Finland). While it doesn't quite do to the Russian taiga what "Lawrence" did to the Arabian desert, you can still feel the vastness of the Siberian wasteland as Yuri struggles home on foot through a raging blizzard. The direction of quite a few scenes - particularly the demonstration and the train ride - is masterful. And Maurice Jarre's musical score is simply one of the best ever, from the famous "Lara's Theme" to the haunting Bolshevik chants that recur throughout the film. The cast is solid for the most part. Omar Sharif is simply amazing as Zhivago, giving a wonderfully understated performance. Geraldine Chaplin is solid as Tonia, managing to be completely believable as Yuri's loving wife (I personally would prefer her over that slut Lara). Alec Guinness, as always, is superb as Yevgraf; though he has limited screen time, his narration alone (particularly that regarding WWI) is often alone worth watching the film. Kinski is fun to watch in his rather brief appearance, and Rita Tushingham acquits herself well. But the biggest scene-stealers are Courtenay and Steiger; Courtenay does an excellent job of making Pasha's transformation into a hard-line Communist realistic, while Steiger gives, IMO, the best performance of his career, simply BECOMING Komarovsky, the venal, crooked, beastly aristocrat who nonetheless does have something of a conscience and cares very much about Lara. There are, however, two flies in the ointment: Julie Christie, who isn't bad, but never does much to make Lara seem like the object of such intense desire that she has to be, for Pasha, Komarovsky, and of course Yuri over the course of the film; her performance is rather bland, and I don't know whether to blame her, Lean, or Bolt for this; and Ralph Richardson, as Tonia's father, who has a few good scenes, but overall is very bland and uninteresting. In many ways (and particularly in the first 120 minutes), "Doctor Zhivago" measures up to David Lean's other masterpieces. Unfortunately, due to a number of flaws, it fails to make it the rest of the way. However, it is still a classic in its own right, and if you're a fan of Lean's other films, try to watch it at least once.
---
Do you know something we don't?
Submit a correction or make a comment about this profile

Copyright ©2019 Soylent Communications