Panic Room (29-Mar-2002)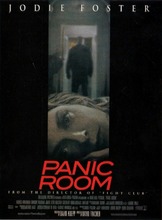 Director: David Fincher
Writer: David Koepp
Music by: Howard Shore
Producers: Gavin Polone; Judy Hofflund; David Koepp; Cean Chaffin
Keywords: Thriller, Explosions




A divorcee and daughter become the victims of an armed break-in, forcing them to take refuge in their mansion's "panic room".
ABSTRACT
Recent divorcee Meg Altman and diabetic daughter Sarah purchase a mansion complete with an impenetrable "panic room" in New York, intending to make a new life for themselves following the departure of Meg's husband from their family dynamic. Tragedy predictably strikes when three burglars seeking money in a safe located inside the "panic room" break in, forcing mother and daughter to take refuge in their fortress as the robbers make a high-stakes play for their loot.
CAST
REVIEWS
Review by mizi causevic (posted on 13-Feb-2005)
I must admit that the premise of this flick is quite lame. Before hearing who was in the Director's chair I immediately said "There is no way I am going to see this", a kick in my ass came shortly after a friend of mine told that David Fincher was directing it. I dig David Fincher so much that if he decided to a movie about a monkey trapped in a mental asylum, I'd still see it. Hm... now that actually sounds like a spiffy flick... maybe I can write a script for it. So yes, it's David Fincher folks, he is good at whatever he does, thus this movie was good as well.
This movie is quite simple, it also seems like it could be a 20 minute cartoon on the tube, but when you have David Fincher behind the camera you can't help but get plunged into it. Just the dark-gloomy visuals of this flick are absolutely breath taking. The eerie mood created by the enormous house, humorous crooks going after the panic room, it's all in here!
So here go... Meg Altman played by Jodie Foster (Silence Of The Lambs, Contact) is a divorced mother who moves into this enormous palace with her daughter Sarah Altman (played by Kristen Stewart.) Not even fully settled in, they are awaken by three burglars played by Forest Whitaker, Jared Leto and Dwight Yoakam whose plan is to go after what is in the "panic room."
Not expecting anyone to be in the house, they soon find out that Meg & Sarah Altman actually moved in tad bit early. This of course gets into their way of robbing the house in peace and comfort and everything pretty much goes off the planned road.
Seeing that this movie is a "thriller", it does however resemble Fight Club for a tad bit. It is fraught with anecdotes just like Fight Club was. I found this unbelievably cool even though some people disagreed, some were saying that the movie could have gone without the humorous incidents. I don't see the big deal, I actually thought it was kind of cool.
So what exactly is so good and so bad about this movie? The good is the way the movie was shot, the mood that was created from the story, the breath-taking visuals (blue flame explosion scene) & the opening credits (tell me that didn't look slick as all hell?) and of course the odd chemistry between the burglars. The bad is of course the plot turns, you could pretty much just sit there and call them one by one. Maybe some people will actually think that's cool, I don't know. I personally like being surprised more than being able to tell what will happen next. The ending also left me kind of 'eh? what, no no no, ah come on' simply because I fell for one of the characters whose fate was kind of sad. The ending is not bat at all, this is purely my own opinion. Overall I was entertained by the movie and not once did I put my head down out of boredom. Make sure you rent this puppy as soon as it comes out in your local video store, you will not be disappointed, especially David Fincher fans!
---
Do you know something we don't?
Submit a correction or make a comment about this profile

Copyright ©2019 Soylent Communications