Open Range (11-Aug-2003)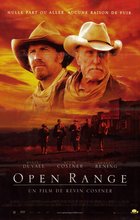 Director: Kevin Costner
Writer: Craig Storper
From novel: Open Range by Lauran Paine
Music by: Michael Kamen
Producers: David Valdes; Kevin Costner; Jake Eberts
Keywords: Western




A former gunslinger takes up arms to protect his Old West cattle crew from a villainous sheriff and rancher.
ABSTRACT
Old open-range cattleman Boss Spearman lives a life suited to the Old West with crew mates Charley Waite, Mose Harrison, and Button, driving their cattle across the frontier and avoiding the wilds of civilization. Inadvertently forced into the town of Harmonville one unfortunate day, Boss must call upon Charley's expertise as a former gunslinger to defend their party from threats posed by a slimy sheriff working in cahoots with a powerful rancher.
[watch trailer]
CAST
REVIEWS
Review by anonymous (posted on 20-Apr-2005)
One of the most enjoyable westens yet seen by me. Good old shoot em up, but with a sentimental twist, class actors, good direction and great location shots of open country. In all a well made production. I would expect nothing more from a cast with Kevin Costner, Robert Duval and the georgious Annette Bening. The supporting cast was to say the least terrific. Its great to see a film made in the old style without all the hi tech trimmings of todays film world. Recomended to all good film lovers. Well worth viewing.
---
Do you know something we don't?
Submit a correction or make a comment about this profile

Copyright ©2019 Soylent Communications