Barbershop (7-Aug-2002)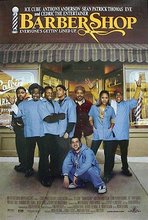 Director: Tim Story
Writers: Mark Brown; Don D. Scott; Marshall Todd
Music by: Terence Blanchard
Producers: Robert Teitel; George Tillman, Jr.; Mark Brown
Keywords: Comedy, Hairdressing, Loan Shark




A man selling his family's barbershop in urban Chicago experiences a change of heart when he spends time with its amusing employees and customers.
ABSTRACT
Calvin Palmer, a young man more concerned with making a quick buck than staying true to his roots, sells the family barbershop -- located in a blighted corner of south-side Chicago -- to loan shark Lester, drawing the ire of wife Jennifer as a result. Eager to make things right with his wife, Calvin spends a day cutting hair alongside the barbershop's eclectic cast of employees, soon realizing that he didn't know what he had 'til it was gone as he works to undo his sale.
CAST
Ice Cube
... Calvin Palmer
Anthony Anderson
... JD
Sean Patrick Thomas
... Jimmy James
Eve
... Terri Jones
Troy Garity
... Isaac Rosenberg
Michael Ealy
... Ricky Nash
Leonard Earl Howze
... Dinka
Keith David
... Lester
Lahmard Tate
... Billy
Jazsmin Lewis
... Jennifer Palmer
Tom Wright
... Det. Williams
Jason George
... Kevin
DeRay Davis
... Hustle Guy
Sonya Eddy
... Janelle
and
Cedric the Entertainer
... Eddie
Saralynne Crittenden
... Big Mamma
Jasmine Randle
... Gabby
Naomi Young Armstrong
... Grandma
Marcia Wright
... Angry Woman
Lorenzo Clemons
... Bank Manager
Frank Townsend
... Terri's Customer
Scott Dent
... Boy
Carl Wright
... Checkers Fred
Laura E. Walls
... Church Lady
Woody Bolar
... Customer Artis
Deon Cole
... Customer Darrel
Marshall Titus
... Customer Joe
Clifford T. Frazier
... Customer Kwame
J. David Shanks
... Customer Lamar
Leon S. Rogers, Jr.
... Customer Larry
Jam
... Customer Lloyd
Eric Lane
... Customer Rodney
Norm Van Lier
... Customer Sam
Ray Thompson
... Customer Tyrone
Mark Simmons
... Customer Rob
Vince Green
... Waiting Customer
Cassandra Lewis
... Young Mom
Janina Gavankar
... Fine Woman
Olumiji Olawumi
... Jay
Satya Lee
... Korean Woman
Kevin Morrow
... Monk
Teara Hill Willborn
... Little Kid
Ebboney Wilson
... Little Kid
Chester Clay McSwain
... Mailman
Steven Simoncic
... Officer with Photo
Matt Orlando
... Officer
Willie B. Goodson
... Officer
Cynthia Maddox
... Prison Guard
Montina Woods
... Rhonda Watts
Llou Johnson
... Salesman
Dana Min Goodman
... Cashier
Parvesh Cheena
... Samir
Pat "Soul" Scaggs
... Motel Manager
Dev Kennedy
... Det. Williams' Partner
Malik S. Middleton
... Construction Worker
Kwame Amoaku
... Stair Guy
Toyiah Marquis
... Samir's Wife
Cerall Duncan
... Kevin's Other Woman
Eddie Bo Smith, Jr.
... Crazy Inmate
Maestro Harrell
... Customer Tillman
Rhonda Bobo
... Ricky's Girlfriend
Jalen Rose
... Himself
Tiffany S. Gaji
... Cop
REVIEWS
Review by bigdawg4ever (posted on 11-Oct-2007)
Meaning no disrespect to anyone who is not African American, but, if you have never been in a Black Barbershop, you will not get this movie. Set in a urban black barbershop, this film gives viewers an inside sometimes over the top look at what life is like in a black barbershop. From the barbers themselves to the people who frequent them. Anthony Anderson and Lahmard Tates charcters always trying to scheme on getting ahead. A barber who thinks he is too good to be "a barber" (Sean Patrick Thomas) a barber who has been on the wrong side of the law (Michael Ealy.Believe it or not, there is always a white barber who thinks that he can cut black hair. (Troy Garrity) and of course one barber who never cuts hair but is the oldest, wisest barber in the shop (Cedric the entertainer) and of course the Owner, who seems to hold everyone together when things get rough. (Ice Cube) this movie is entertaining with some over the top laughs and some serious moments when Ice cube wants to sell the shop and the other barbers are worried what they will do if he does. Cedric the entertainer is hilarious as the Old Barber who always seems to have words of wisdom for Calvin. Cedrics character eddie, use to work for calvins father when he owned the shop. This film is fun,and most (especially african american men can relate) will have fun with this movie.
---
Do you know something we don't?
Submit a correction or make a comment about this profile

Copyright ©2019 Soylent Communications