84 Charing Cross Road (13-Feb-1987)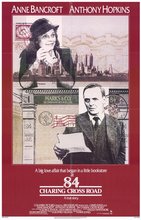 Director: David Jones
Writer: Hugh Whitemore
From novel: 84 Charing Cross Road by Helene Hanff
From a play by: James Roose-Evans




True story of Helene Hanff, a single Manhattan woman and avid and picky reader who cannot find the specific titles she seeks locally, commences a correspondence with the Marks and Cohen bookshop in London, located at 84 Charing Cross Road; their letters range from 1949 to 1969 and form an important part of both parties lives. Brilliantly acted, touching and bittersweet story of a love which is not physical.
REVIEWS
Review by anonymous (posted on 17-Aug-2006)
An ad in the Sunday Times for used books leads an American spinster to meet through correspondence the staff of the used bookk store and it is through these correspondences that friendships are made and mature until it reaches the point where they are almost family in a sense. The American, Anne Bancroft, expresses a desire to go to England and to finally meet these people she knows only through her letters to them but this is not to be. True her friends do get to go to England and they do meet the people there but through a series of problems Ms. Bancroft can never seem to find the time or the funds. When she finally does....ah but that would give away the ending. The story-line is plausable and the characters are real. The acting itself is first rate and i would hihly reccomend this film to anyone who appreciates a truly feel good movie. No sex or violence, just good solid acting. No hidden meanings or politics, just a good story.
---
Review by Jolly (posted on 24-Nov-2009)
Only the impossibility of absolute perfection prevents me from giving "84 Charing Cross Road" four stars. Who would have thought that Mel Brooks, instantly thought of as a purveyor of broad comedies could have been the executive producer on such a warm and heart-tugging story as this. Mel's wife of more than 40 years, Anne Bancroft, playing a lover of books, stars with Anthony Hopkins. a worker in a London bookstore, located at 84 Charing Cross Road. Through years of correspondence via letters, gifts sent to London during difficult times, a caring relationship develops between the two. Eventually, after some failed attempts, Bancroft's character is finally able to visit London to see Hopkin's character. What happens then is...well, you'll just have to watch the movie to find out. Words here just don't do the movie justice at all. I really urge anyone who is looking for a tremendously warm and "adult" (in the best sense of the word) film to see this movie. It is available now on DVD. A tip of the hat to all the actors, crew, producers, and Director for a job exceedingly well done, especially in comparison to what passes for entertainment from Hollywood in this time period.
---
Do you know something we don't?
Submit a correction or make a comment about this profile

Copyright ©2019 Soylent Communications