The 10th Kingdom (27-Feb-2000)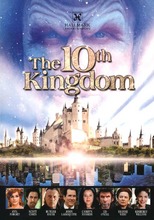 Director: Simon Moore
Writers: David Carson; Herbert Wise
Keywords: Fantasy
Five-part NBC miniseries follows a father and daughter as they are transported to a world populated by fairy tale characters and their fledgling kingdoms.
ABSTRACT
Characters from famous fairy tales like Snow White and Cinderella live in an alternate dimension populated exclusively by magical creatures thriving in nine sovereign kingdoms, though the Evil Queen's plans to rule them all produce widespread chaos. The good Prince Wendell, stepson of the Evil Queen, escapes into a basement after he is transformed into a dog, falling through a mirror into modern-day New York City; it is there that mortal waitress Virginia Lewis and father Tony cross paths with the storybook character, ultimately compelled to travel to the alternate dimension themselves to help restore peace to the once-tranquil land.
REVIEWS
Review by banion48 (posted on 4-Apr-2005)
A personal favorite of mine. Every fairy tale you can ever imagine is rolled into one and brought to life in this 10 hour miniseries, which aired on television nearly 5 years ago. It stars Virginia, a young, pretty waitress from New York, and her father, Tony, who get thrown through a portal into the Nine Kingdoms. Each Kingdom was ruled by one of the original fairytale princesses/heroines -- Little Red Riding Hood and Cinderella to name a few. But all is not well in this magical world. The Evil Queen has broken free of her cell and is now stalking the good Prince Wendel, trying to put an imposter on the throne! Virginia, Tony, Wendel, and a bumbling, snuffling, love-lorn, half-werewolf named Wolf embark on a quest to both find a way home and put this topsy-turvy world back to rights.
---
Do you know something we don't?
Submit a correction or make a comment about this profile

Copyright ©2019 Soylent Communications