May (13-Jan-2002)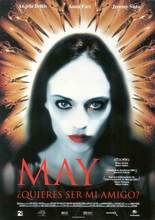 Director: Lucky McKee
Writer: Lucky McKee
Keywords: Horror, Drama, Frankenstein




A tormented young woman's failed attempts to connect with society turn deadly.
ABSTRACT
May Dove Canaday grew up a friendless girl with a weirdo mother, finding solace only in a doll kept in a glass case given to her as a birthday gift. In the present day, May is a maladjusted young lady, working as a veterinarian's assistant with dreams of finding her Mr. Right despite a total inability to connect with and relate to others; when her doll is damaged, May's bizarre tendencies reach a gruesome breaking point, as she decides to mutilate her acquaintances and stitch their body parts together to "make" her a new "friend".
"If you can't find a friend... make one."
REVIEWS
Do you know something we don't?
Submit a correction or make a comment about this profile

Copyright ©2019 Soylent Communications