Shaun of the Dead (9-Apr-2004)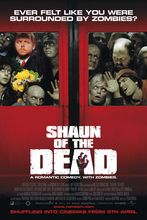 Director: Edgar Wright
Writers: Simon Pegg; Edgar Wright
Original Score by: Daniel Mudford; Pete Woodhead
Producer: Nira Park
Keywords: Horror/Comedy, Zombie, Cannibalism




An embattled British man attempts to salvage his existence in the midst of a zombie apocalypse.
ABSTRACT
Top-flight British comedian Simon Pegg co-writes and stars in this acclaimed satire as Shaun, a struggling British man on the cusp of middle age whose attempts to turn his life around by getting back together with his ex-girlfriend coincide with the arrival of a ghastly zombie apocalypse. Sensing the calamity as a perfect opportunity to prove his worth as an individual, Shaun takes matters into his own hands, squaring off against the living dead in a show of force to protect and project a good image towards his friends and loved ones all at once. Shaun of the Dead stands as both a send-up to and takeoff on George Romero's B-movie zombie staples, though it succeeds on its own merits as a worthy entry in its niche.
CAST
Simon Pegg
... Shaun
Kate Ashfield
... Liz
Lucy Davis
... Dianne
Nick Frost
... Ed
Dylan Moran
... David
Bill Nighy
... Philip
Penelope Wilton
... Barbara
Jessica Stevenson
... Yvonne
Peter Serafinowicz
... Pete
Rafe Spall
... Noel
Nicola Cunningham
... Mary
Kier Mills
... Clubber 1
Matt Jaynes
... Clubber 2
Gavin Ferguson
... Football Kid
Horton Jupiter
... Homeless Man
Tim Baggaley
... The Usher
Arvind Doshi
... Nelson
Sonell Dadral
... Danny
Samantha Day
... Woman on Trisha
Trisha Goddard
... Herself
David Park
... Grave Scientist
Finola Geraghty
... Distraught Vox Pop
Robert Fitch
... Distressed Man
Sharon Gavin
... Florist
Patch Connolly
... Pigeon Man
Stuart Powell
... Snakehips
Patricia Franklin
... Spinster
Steve Emerson
... John
Phyllis McMahon
... Bernie
Krishnan Guru-Murthy
... Himself
Carol Barnes
... Herself
Rob Butler
... Himself
Jeremy Thompson
... Himself
Vernon Kay
... Himself
Mark Donovan
... Hulking Zombie
Christopher Harwood
... Grizzled Zombie
Martin Freeman
... Declan
Reece Shearsmith
... Mark
Tamsin Greig
... Maggie
Julia Deakin
... Yvonne's Mum
Matt Lucas
... Cousin Tom
Nick Ewans
... Pyjama Zombie
Alex Lutes
... Trisha Zombie
Chris Martin
... Himself
Jonny Buckland
... Himself
Keith Chegwin
... Himself
REVIEWS
Review by Christian Bell (posted on 28-May-2007)
This film is an absolute major classic in the making. It's one of those must see's if you really enjoy a good laugh and enjoy dark humour. Essentially a take on "The Living Dead" based in suburban London after a meteorite hits the Earth, and people start behaving strangely. Sean, (Simon Pegg) who is the main character, fails to see any of these changes although they are all around him. He simply carries on his mundane lazy life with the rest of the cast doing the same. In a stagnant relationship with his girlfriend Liz (Kate Ashfield). Add a best school friend chum Ed (Nick Frost), whose claim to fame is impersonating a gorilla, and centred around the local pub "The Winchester" As the "horror" unfolds the team fight off the Zombie Flesh eating "Dead" with Records, Toasters, and the best use of a cricket bat I've ever seen! Eventually taking refuge in the Winchester for the final showdown - Man against Zombie. All helped along with a few pints, bags of Hog Lumps and classic Queen Music A "Slice of Solid Gold" with great punch lines, colourful characters, and a great ending. Sit back, turn out the lights, turn up the volume and Enjoy!! Also have a look at "Hot Fuzz" where the team meet up again, and wreak havoc in a sleepy English village.
---
Review by anonymous (posted on 9-Aug-2005)
Dictionary.com defines the word "immaculate" as "Free from fault or error". It also defines "superb" as "Of unusually high quality". And to toss ANOTHER one in there, the word "superlative" as "Of the highest order, quality, or degree; surpassing or superior to all others". All of these words come to mind when I speak of Shaun of the Dead... I am a movie fan.....I am a zombie fan....When these two items are morphed together, I am a Happy Man.....Edgar Wright and Simon Pegg have absolutely outdone themselves with this film....Coming into this movie as a fan of Spaced, I was completely expecting a fine bit of film-making.....Film-making that would include self-deprecation, tongue-in-cheek humor, and a healthy amount of blood....I was not dissapointed.....In fact, this movie was even better than I could have EVER hoped for.....High Fidelity and American Beauty have been neck-and-neck for first place on my list of favorite movies of all-time (at least of MY time)....Shaun Of The Dead has knocked American Beauty out of the running and comes in first place, with a vengeance....This movie has made me as giddy as a schoolboy and I haven't been THAT excited about a movie since I actually WAS a schoolboy....I'm 27 now.....So quick list of what you need to do..... * Bathe yourself * Ensure that vehicle has enough gas to get you to theatre that is showing Shaun of the Dead * Drive vehicle to aforementioned theatre * Purchase ticket at box-office for you and a date (if you have a date who is willing to sit through this zombiephile's fantasty with you) * Put ass in seat * Watch film * Leave theatre, and be sure to tell ALL your friends (feel free to spread to the word to complete strangers as well) that they MUST see this movie. They MUST support Edgar and Simon!!! * Be happy that you've partaken in a fine cinema experience P.S. Watch for homages to Evil Dead, Day of the Dead, Some John Woo filmmaking, and even a quick little reference to another zombie movie of late, 28 Days Later. YOU WILL NOT BE DISAPPOINTED....Let me repeat.....YOU WILL NOT BE DISAPPOINTED.... This movie gets 4 out of 4 stars but only because there's no way to put 7 out of 4......GO SEE IT...
---
Do you know something we don't?
Submit a correction or make a comment about this profile

Copyright ©2019 Soylent Communications