A Christmas Story (18-Nov-1983)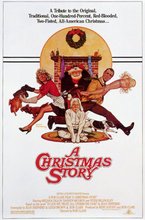 Director: Bob Clark
Writers: Leigh Brown; Bob Clark; Jean Shepherd
From novel: In God We Trust, All Others Pay Cash by Jean Shepherd
Keywords: Juvenile/Comedy, Christmas, Coming of Age




In Peter Billingsley's most famous role, he plays Ralphie, a somewhat cynical young boy in 1940s small town Indiana who wants nothing more than a Red Ryder BB gun for Christmas. Adults are in unanimous agreement that "you'll shoot your eye out." Sentimental vision of Americana, told in vignettes. The film was not successful when release, but grew to become a much-watched favorite. Entered 2012 into the National Film Registry.
[watch trailer]
REVIEWS
Review by Wendy (posted on 9-May-2005)
This is a movie for kids of all ages. This film takes you inside of a young boy's mind which is wonderful. It takes us back to a much more simple time. Ralphie's world revolved around getting a Red Rider BB Gun and his wonderful fantasy imagination. No matter how many times you view it, the film is entertaining and funny.
---
Review by David Gibson (posted on 28-Mar-2005)
What we would want all our Christmas's to be, warm and funny with the usual mishaps thrown in. The expectation and excitement of being young again and wanting that special toy to be there under the tree when you wake up as well as the not so wonderful pyjamas from a well meaning relative. Should be a regular addition to the Christmas schedules as it rekindles the thoughts and memories of what Christmas really meant before we all grew up.
---
Do you know something we don't?
Submit a correction or make a comment about this profile

Copyright ©2019 Soylent Communications