Witness for the Prosecution (Dec-1957)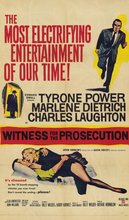 Director: Billy Wilder
Writers: Harry Kurnitz; Larry Marcus; Billy Wilder
From a play: Witness for the Prosecution by Agatha Christie
Musical Score: Matty Malneck
Producer: Arthur Hornblow, Jr.




Tyrone Power plays Leonard Vole, accused on circumstantial evidence of murdering a wealthy widow he had known only a short time but who had bequeathed him a fortune. Charles Laughton is Sir Wilfrid Robarts, barrister in poor health who only one day out of the hospital has agreed to take up his case; Marlene Dietrich is Christine, his wife and star witness for the prosecution. First rate courtroom drama; nominated for 6 Oscars including Best Picture, Best Director, Best Actor, and Best Supporting Actress.
| Name | Occupation | Birth | Death | Known for |
| --- | --- | --- | --- | --- |
| Henry Daniell | Actor | 5-Mar-1894 | 31-Oct-1963 | British-American character actor |
| Marlene Dietrich | Actor | 27-Dec-1901 | 6-May-1992 | The Blue Angel |
| Elsa Lanchester | Actor | 28-Oct-1902 | 26-Dec-1986 | Bride of Frankenstein |
| Charles Laughton | Actor | 1-Jul-1899 | 15-Dec-1962 | Island of Lost Souls |
| Ruta Lee | Actor | 30-May-1935 | | Former hostess, High Rollers |
| Una O'Connor | Actor | 23-Oct-1880 | 4-Feb-1959 | Googly-eyed character actress |
| Tyrone Power | Actor | 5-May-1913 | 15-Nov-1958 | Witness for the Prosecution |
| Torin Thatcher | Actor | 15-Jan-1905 | 4-Mar-1981 | The 7th Voyage of Sinbad |
| Norma Varden | Actor | 20-Jan-1898 | 19-Jan-1989 | Gentlemen Prefer Blondes |
| Ian Wolfe | Actor | 4-Nov-1896 | 23-Jan-1992 | Bedlam |
CAST
REVIEWS
Review by Mark J. Shallow (posted on 12-Dec-2008)
That reliable cinematic workhorse, the courtroom drama, is admirably showcased in this film version of Agatha Christie's hit play. The genius of Billy Wilder, who directed, is plainly evident throughout. Despite the unlikely histrionics at the very end of the film, Wilder and his players capture and hold the audience's attention. There could never have been an instance of more felicitous casting than Charles Laughton as Sir Wilfrid Robards. Though much-maligned during his career for chewing the scenery, here his characterization sparkles with incisive wit and cunning as the aging lion brought into the arena one more time. The byplay between himself and his real-life wife, Elsa Lanchester, who plays his delightfully nagging nurse, reverberates with a sort of venemous charm that is impossible to dislike. Marlene Dietrich, as the wife of the accused murderer, is the epitome of continental hauteur, and the fencing between her and Laughton has a compelling edginess to it. The only flaw in this otherwise brilliant film is the casting of an Anerican actor (Tyrone Power) as the man charged with murdering his wealthy benefactress. This was the last film for the former Fox star, and he seems distinctly out of place among his European counterparts. He was an odd choice to play Leonard Vole, given the fact that Christie wrote the character as being British.
---
Do you know something we don't?
Submit a correction or make a comment about this profile

Copyright ©2019 Soylent Communications