Splendor in the Grass (10-Oct-1961)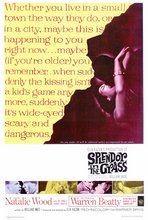 Director: Elia Kazan
Writer: William Inge
Music Composed and Conducted by: David Amram
Producer: Elia Kazan
Keywords: Drama, Coming of Age




Set in 1928 Kansas, Natalie Wood plays Deanie Loomis, a teenager from a working-class family who dates and falls in love with Bud Stamper, from a wealthy family and destined for Yale. The doomed romance leaves her love unrequited; many things change with the crash of the stock market in 1929. Beatty's first film; brilliant performance by Wood. Won Oscar for Best Story and Screenplay; Natalie Wood received a nomination for Best Actress.
| Name | Occupation | Birth | Death | Known for |
| --- | --- | --- | --- | --- |
| Warren Beatty | Actor | 30-Mar-1937 | | Dick Tracy |
| Audrey Christie | Actor | 27-Jun-1912 | 19-Dec-1989 | Broadway and TV actress |
| Sandy Dennis | Actor | 27-Apr-1937 | 2-Mar-1992 | Who's Afraid of Virginia Woolf? |
| Phyllis Diller | Comic | 17-Jul-1917 | 20-Aug-2012 | The original female stand-up comic |
| Pat Hingle | Actor | 19-Jul-1924 | 3-Jan-2009 | Commissioner Gordon in Batman films |
| Zohra Lampert | Actor | 13-May-1937 | | Let's Scare Jessica to Death |
| Gary Lockwood | Actor | 21-Feb-1937 | | Dr. Frank Poole, 2001: A Space Odyssey |
| Natalie Wood | Actor | 20-Jul-1938 | 29-Nov-1981 | Rebel Without A Cause |
CAST
starring
Natalie Wood
... Wilma Dean Loomis
Pat Hingle
... Ace Stamper
Audrey Christie
... Mrs. Loomis
Barbara Loden
... Ginny Stamper
Zohra Lampert
... Angelina
and introducing
Warren Beatty
... Bud Stamper
featuring
Fred Stewart
... Del Loomis
Joanna Roos
... Mrs. Stamper
John McGovern
... Doc Smiley
Jan Norris
... Juanita Howard
Martine Bartlett
... Miss Metcalf
Gary Lockwood
... Toots
Sandy Dennis
... Kay
Crystal Field
... Hazel
Marla Adams
... June
Lynn Loring
... Carolyn
Phyllis Diller
... Texas Guinan
Sean Garrison
... Glenn
REVIEWS
Review by anonymous (posted on 22-Jul-2005)
When this movie came out, I was 17. Later it became such a meaningful, poignant story for me. I had a star-crossed love also. It did not revolve around sex, but another set of circumstances that led to the loss of my (and my only true love's dreams.) I own the movie but can only occasionally watch it. My true love and I parted......both knowing that we would never love another person quite the same. That was more than 30 years ago, and this movie still brings it all back to me. In the words of Wordsworth, "Though nothing can bring back the hour of splendor in the grass, of glory in the flower, we will grieve not, rather find strength in what remains behind," I find my strength to exist.
---
Do you know something we don't?
Submit a correction or make a comment about this profile

Copyright ©2019 Soylent Communications