Ella Enchanted (9-Apr-2004)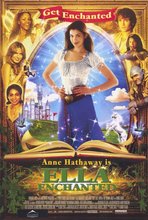 Director: Tommy O'Haver
Writers: Laurie Craig; Karen McCullah Lutz; Kirsten Smith; Jennifer Heath; Michele J. Wolff
From novel by: Gail Carson Levine
Music by: Nick Glennie-Smith
Producer: Jane Startz
Keywords: Fantasy




A beautiful young woman bound by a supernatural "gift" of obedience strives to break thorugh her restrictions to protect a dashing prince.
ABSTRACT
Ella, a young woman living in a storybook kingdom, is given a "gift" of absolute obedience from her fairy godmother at birth. The "gift" requiring her to do anything anyone asks her to proves to be more of a curse than a blessing, as her mother passes away and leaves her in the care of her wicked father and equally-wicked stepmother. Now a young adult, Ella must rely on her own tact and intuition to power through her gift and protect the handsome Prince Charmont from a who's-who of nefarious adversaries.
CAST
Anne Hathaway
... Ella
Hugh Dancy
... Char
Cary Elwes
... Edgar
Vivica Fox
... Lucinda
Joanna Lumley
... Dame Olga
Jimi Mistry
... Benny
Steve Coogan
... Heston
Aidan McArdle
... Slannen
Heidi Klum
... Brumhilda
Jim Carter
... Nish
Jennifer Higham
... Olive
Parminder Nagra
... Areida
Lucy Punch
... Hattie
with
Minnie Driver
... Mandy
Patrick Bergin
... Sir Peter
and
Eric Idle
... Narrator
Donna Dent
... Ella's Mother
Ankita Malkan
... Young Areida
Sally-Ann Tingle
... Mean Little Girl
Aimee Brigg
... Ella (Aged 8)
Helen Norton
... Prof. Edith
Emmet Kirwan
... Vendor
Christopher Kelly
... Salesman
Audrey Hamm
... Perfume Sprayer
Mikel Murfi
... Mall Cop
Rory Keenan
... Otto
Aonghus Og McAnally
... Bluto
Aaron Monaghan
... Pug
Alvaro Lucchesi
... Koopooduk
Paraic Breathnach
... Ogre No. 2
Daniel Naprous
... Ogre No. 3
Nora Jane Noone
... Fairy No. 1
Pat Kinevane
... Make-Up Artist
Andrea Irvine
... Tour Guide
Merrina Millsapp
... Hall of Records Attendant
Amelia Crowley
... Fairy Administrator
Pat McGrath
... Dungeon Guard
Susan Ward
... Fan Club Girl
REVIEWS
Review by anonymous (posted on 3-May-2005)
Ella Enchanted is one of the most fantastic movies I have seen in the last few years. The actors were perfect for their parts, none of them seemed out of place in the fairytale world. The storyline was full of colour and fun, with everything else in between. I could almost believe that all the places, people and creatures were real. Anne Hathaway was spectacular as Ella, I especially liked her solo at the giants wedding. Prince Char was even more gorgeous than I imagined when I read the book. Overall the film was a fantastic must see never to be forgotten.
---
Review by anonymous (posted on 17-Feb-2007)
This movie is superb when it comes to the visual effects. However, I am most seriously displeased at the plot that the movie has. I must say, as a fan of the book "Ella Enchanted" that the movie does not do it justice.
---
Do you know something we don't?
Submit a correction or make a comment about this profile

Copyright ©2019 Soylent Communications