The Andersonville Trial (17-May-1970)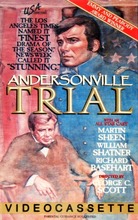 Director: George C. Scott
Writer: Saul Levitt
Producer: Lewis Freedman
Keywords: Drama, Civil War, Prison, Courtroom




Made-for-TV (PBS) dramatization of the trial of William Wirz, warden of Andersonville Prison where atrocities were committed during the U.S. Civil War.
CAST
REVIEWS
Review by Willard F. (posted on 2-Oct-2005)
I bought the movie on the spur of the moment when reviewing the cast list; a stallar list of TV Vets. I found William Shatner's character very moody in his struggle to convict Richard Basehart's 'William Wirz'. One TV vet that was overlooked in the list was Albert Salmi who was one of the witnesses for the prosecution. The version I have has a beginning overview by George C. Scott which really helps in understanding the basis of the movie. Watching the movie gave insight into one of the dark days of our nation's history and wonder how we as 'civilized' American Citizens could treat each other in the way the movie AND history describes. Be prepared to have your opinion change on the 'glory' of the American Civil War.
---
Do you know something we don't?
Submit a correction or make a comment about this profile

Copyright ©2019 Soylent Communications