Vanilla Sky (10-Dec-2001)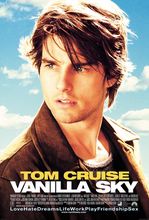 Director: Cameron Crowe
Writer: Cameron Crowe
Music by: Nancy Wilson
Producers: Tom Cruise; Paula Wagner; Cameron Crowe
Keywords: Mystery, Romantic Comedy, New York




A well-to-do publisher struggles to maintain a firm grip on his sanity following a car accident with an embattled lover.
ABSTRACT
Remake of Open Your Eyes (1997). Publishing tycoon-cum-womanizer David Aames agrees to go for a ride with jaded lover Julie Gianni one fateful day, unaware of her suicidal intent; sure enough, Julie drives her car off a bridge, killing herself and severely disfiguring David's face. Though David initially succeeds at piecing his life back together through reconstructive surgery and the emotional support of new love interest Sofia, he soon becomes party to a series of increasingly troubling events leading him to question his connection with reality, an ordeal ultimately ending in his incarceration after he is suspected of complicity in his dead lover's demise.
[watch trailer]
CAST
Tom Cruise
... David Aames
Penelope Cruz
... Sofia Serrano
Kurt Russell
... McCabe
Jason Lee
... Brian Shelby
Noah Taylor
... Edmund Ventura
Timothy Spall
... Thomas Tipp
Tilda Swinton
... Rebecca Dearborn
and
Cameron Diaz
... Julie Gianni
Alicia Witt
... Libby
Johnny Galecki
... Peter Brown
Michael Shannon
... Aaron
Delaina Mitchell
... David's Assistant
Shalom Harlow
... Colleen
Oona Hart
... Lynette
Ivana Milicevic
... Emma
Jhaemi Willens
... Jamie Berliner
Armand Schultz
... Dr. Pomeranz
Cameron Watson
... Other Doctor
Robertson Dean
... Third Doctor
W. Earl Brown
... Barman
Ray Proscia
... Doctor from Berlin
Tim Hopper
... Man in Blue Coat
Ken Leung
... Art Editor
Carolyn Byrne
... Beatrice
Mark Pinter
... Carlton Kaller
Jeff Weiss
... Raymond Tooley
Conan O'Brien
... Himself
Jim Murtaugh
... Benny's Owner
Mark Kozelek
... Dude, Fix Your Face Guy
John Fedevich
... Silent Ed Vallencourt
Bobby Walsh
... Young David
Stacey Sher
... Rayna
Fred Schruers
... Cryo Man
Jessica Siemens
... Sofia's Friend
Julia Carothers Hughes
... Sofia's Friend
Holly Raye
... Dancer
Marty Collins
... Martini Waiter
Mark Bramhall
... Sneezy
Jack Hall
... Bashful
David Lewison
... Sleepy
Jennifer Griffin
... Happy
Adam LeGrant
... Doc
John Kepley
... Dopey
Robin Van Sharner
... Grumpy
Laurel Wiley
... Dr. Jennifer Ash
Nicole Taylor Hart
... Party Videographer
Julia Anne Shuler
... Model
Jennifer Marie Kelley
... Model
Erin McElmurry
... Model
Alice Crowe
... Lucid Dreamer
Mel Thompson
... Life Extension Man
Jonathan Sanger
... Frozen Pediatric Cardiologist
Tommy Lee
... Frozen Vintage Car Man
Ana Maria Quintana
... Frozen Theologist
Paul Haggar
... Frozen Risktaker
Randy Woodside
... Frozen Dad
Robert F. Harrison
... Laughing Guy
Carly Starr Brullo Niles
... Carly
Jane Pratt
... Herself
Patrick McMullen
... Himself
Steven Colvin
... Himself
Cindy Crowe
... Herself
The Great John Sypolt
... Himself
Michael Kehoe
... Chef
Danielle Wolf
... Coat Check Girl
Scotch Ellis Loring
... L. E. Building Guard
Brent Sexton
... Security Guard
Curt Skaggs
... Security Guard
Jennifer Gimenez
... Lola
Lori Lezama
... Skyscraper Girl
Todd Harrison
... Skyscraper Guy
Blossom
... Benny the Dog
Laura Fraser
... The Future
REVIEWS
Review by Michael Lesch (posted on 10-Jul-2009)
A film which makes an attempt to pattern itself on the fantasy vs. reality films that had become popular at the turn of the new millennium - David Fichner's "Fight Club" and M. Night Shamalan's "Sixth Sense" both from 1999, Christopher Nolan's "Momento" from 2000, and David Lynch's "Mulholland Drive" released the following year (all of which don't surpass the reigning king of this genre when Terry Gilliam released his 1985 masterpiece "Brazil") - by no means fails in this respect since I found it both entertaining and intriguing for the most part, but is noticeably long and certainly may confuse the average '2hr-max-movie-goer'. Penelope Cruz and Cameron Diaz both stand out playing their respective, 'good gal/bad gal roles and Jason Lee is quite appealing as the best friend of our dashing lead Tom Cruise. Yet Cruise may be viewed as stretching this performance given the physical challenges that are demanded. I hesitate to reveal these challenges to those that have not seen the picture as they are indeed the focal point of the plot. Many good things like the witty Cameron Crowe retrospective soundtrack that is weaved into clever culture references and tributes which are indeed enjoyable and even necessary to solve the riddle presented in 'what's is going on?' scenario of the main character's pressing dilemma which may not be easy to access with a single viewing. But still the ride can be entertaining as Tom runs away and into trouble as he often does in quasi-action films that are laced with mystery and intrigue like Sydney Pollack's 1993 "The Firm", Brian De Palma's 1996 "Mission Impossible" and even the more cerebrally dark, "Eyes Wide Shut" from Stanley Kubrick. As noted by many educated critics as well as the tasteless tabloids Mr. Cruise may be biting off more than he can chew as he dives into the land of independent production. I applaud Tom for his efforts and are rooting for his 'comeback' yet do believe that his choice for future roles should include a return to comedic territory as a deviation/diversion to selecting elaborate/complicated efforts which could be prove a bit too risky and result in a poor reception at the box office.
---
Do you know something we don't?
Submit a correction or make a comment about this profile

Copyright ©2019 Soylent Communications