The Black Dahlia (9-Aug-2006)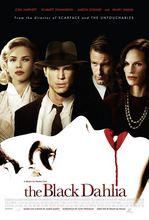 Director: Brian De Palma
Writer: Josh Friedman
From novel: The Black Dahlia by James Ellroy
Music by: Mark Isham
Producers: Art Linson; Rudy Cohen; Moshe Diamant; Avi Lerner
Keywords: Crime




Two Los Angeles police officers struggle with their lives amidst the unsolved Black Dahlia murder case.
ABSTRACT
The unsolved murder of struggling actress Elizabeth Short, better known as the Black Dahlia, roiled Los Angeles' landscape in 1947, igniting a nationwide media circus fixated on the brutality of her killing and local authorities' inability to bring the culprit to justice. Created at a time of renewed public interest in the infamous story, The Black Dahlia presents viewers with a fictionalized account of the ordeal, following two Los Angeles cops as their lives are torn apart by an all-consuming obsession with the case and their trouble with bringing it to a satisfactory close.
CAST
Josh Hartnett
... Bucky Bleichert
Scarlett Johansson
... Kay Lake
Aaron Eckhart
... Lee Blanchard
and
Hilary Swank
... Madeleine Linscott
Mia Kirshner
... Elizabeth Short
Mike Starr
... Russ Millard
Fiona Shaw
... Ramona Linscott
Patrick Fischler
... Ellis Loew
James Otis
... Dolph Bleichert
John Kavanagh
... Emmett Linscott
Troy Evans
... Chief T. Green
Anthony Russell
... Morrie Friedman
Pepe Serna
... Dos Santos
Angus MacInnis
... Capt. John Tierney
Rachel Miner
... Martha Linscott
Victor McGuire
... Bill Koenig
Gregg Henry
... Pete Lukins
Jemima Rooper
... Lorna Mertz
Rose McGowan
... Sheryl Saddon
Dan Ponce
... Mp
Graham Norris
... Cop
Mike O'Connell
... Shore Patrol
Michael Flannigan
... Desk Officer
John Solari
... Baxter Fitch
Stephanie L. Moore
... Baxter Fitch's Girlfriend
Noel Arthur
... Gunman #1
Todd Thomas
... Gunman #2
Steve Eastin
... Detective
Ian McNeice
... Coroner
Claudia Katz
... Frolic Bartender
Mia Frye
... Laverne Bartender
Richard Brake
... Bobby Dewitt
Bill Finley
... George Tilden
Joost Scholte
... Madeleine's GI
Fatso Fasano
... Dealer
Teo
... Friedman's Tough Guy #1
Kiril Eframov
... Friedman's Tough Guy #2
Petar Milchev
... Perp
REVIEWS
Review by Elliott Bernshaw (posted on 28-Oct-2007)
Rather incomprehensible. Star talent couldn't keep my interest (boxing and boxer-mentality strongly turn me off). I couldn't follow the twists in the plot, and after half way into the movie, frankly I didn't care what was happening. This film I found similar to Chinatown. But 'Chinatown' kept my interest glued, and I eagerly went back repeated times to view it again and again, and was thrilled to finally figure it all out. Obviously, 'Chinatown's' Jack Nicholson was far more riviting than Josh Harnett will ever be. Same for Faye Dunaway being far over the ladies in 'Black Dahlia.' Of course, 'Chinatown' had what some claim to be one the best scripts ever written (?!). And 'Black Dahlia's' director De Palma has always made disappointing movies for me ('Red Planet', etc.). The only thing attractive about 'Black Dahlia' was watching Johansson and Swank disrobing or getting their clothes torn off (I never realized that both these ladies have 'full' figures, especially boyish-typed Swank!). Too bad, however, that more nudity wasn't clearly shown. Conclusion, I will never watch this film again. (Realize that I am a Bogart fan, I liked Costner's 'Untouchables,' 'Chinatown,' 'The Sting,' Harrison Ford-Brad Pitt's Irish terrorist movie, etc.) P.S. to editors: we submitters could use a spell crecker!
---
Do you know something we don't?
Submit a correction or make a comment about this profile

Copyright ©2019 Soylent Communications