Thief (27-Mar-1981)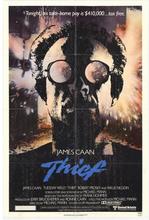 Director: Michael Mann
Writer: Michael Mann
From novel: The Home Invaders by Frank Hohimer
Music by: Tangerine Dream
Producers: Jerry Bruckheimer; Ronnie Caan




Professional safecracker Frank yearns for retirement, and agrees to one last diamond heist for the Chicago mafia. They give him a house, and provide a child adoption (Frank is a convicted felon, making it impossible to adopt legally). But as his services are much too valuable to allow him to retire. Excellent character-driven caper is one of James Caan's best films.
[watch trailer]
CAST
James Caan
... Frank
Tuesday Weld
... Jessie
Also Starring
Robert Prosky
... Leo
Jim Belushi
... Barry
Tom Signorelli
... Attaglia
and
Willie Nelson
... Okla
Leo's People
Dennis Farina
... Carl
Nick Nickeas
... Nick
W. R. (Bill) Brown
... Mitch
Norm Tobin
... Guido
The Police
John Santucci
... Urizzi
Gavin MacFadyen
... Boreksco
Chuck Adamson
... Ancell
Sam Cirone
... Martello
Spero Anast
... Bukowski
Walter Scott
... D. Simpson
Sam T. Louis
... Large Detective in Suit
In order of appearance
William LaValley
... Joseph
Lora Staley
... Paula
Hal Frank
... Joe Gags
Del Close
... Mechanic #1
Bruce Young
... Mechanic #2
John Kapelos
... Mechanic #3
Mike Genovese
... Bartender at Green Mill
Joan Lazzerini
... Attaglia's Receptionist
Beverly Somerman
... Secretary with Cup
Enrico R. Cannataro
... Salesman at L&A Plating
Mary Louise Wade
... Waitress #1 at Deli
Donna J. Fenton
... Waitress #2 at Deli
Thomas Giblin
... Mighty Joe Young Band
Willie Hayes
... Mighty Joe Young Band
Conrad Mocarski
... Mighty Joe Young Band
Benny Turner
... Mighty Joe Young Band
William L. Petersen
... Katz & Jammer Bartender
Steve Randolph
... Bounce at Katz & Jammer
Nancy Santucci
... Waitress at Hojo's
Nathan Davis
... Grossman
Thomas O. Erhart, Jr.
... Judge
Fredric Stone
... Garner (Attorney)
Robert J. Kuper
... Bailiff
Joene Hanhardt
... Court Recorder
Marge Kotlisky
... Mrs. Knowles
J. J. Saunders
... Doctor
Susan McCormick
... Nurse
Karen Bercovici
... Ruthie
Michael Paul Chan
... Waiter at Chinese Restaurant
Tom Howard
... Jewelry Salesman #1
Richard Karie
... Jewelry Salesmen #2
Oscar Di Lorenzo
... Customer at Green Mill
Patti Ross
... Marie
Margot Charlior
... Rosa
REVIEWS
Review by Striker5 (posted on 14-Aug-2007)
Aside from being an excellent director, Michael Mann is unerringly consistent in the themes that propel his films. Mann's protagonists are almost without exception extremely professional, proficient, emotionally confused and prone to violence. No greater example exists than his first feature film Thief. In this movie we see the basic ideas Mann would revisit thematically for over two decades. Thief centers around a man named Frank (James Caan). Frank is a fiercely independent professional safecracker. From the opening sequence where Frank and his crew cooly pull of a heist and methodically dispose of clothes, vehicles and tools it is obvious that Frank is very good at what he does. As the plot develops we see that Frank lives a socially empty life peopled only by his teammate (Jim Belushi) and his surrogate father Okla (Willie Nelson). Frank is driven to obtain the things he could not get during a lengthy prison sentence. Wife, house, kids, cars and so forth. These very human desires are his Achilles heel. Enter local mob kingpin Leo (Robert Prosky). Leo capitalizes on Frank's needs and cajoles him into sacrificing his most precious possession in return for everything he wants: his independence. Alternately touching, brutal, and technically dazzling, Thief is an outstanding experience. It features Caan's best performance (his favorite according to the commentary) and Mann's trademark attention to detail. Actual safecrackers were pressed into service as technical advisers to ensure the tools and methods of cracking safes were realistically portrayed. Caan and Mann also went to Gunsite, a famous school for defensive pistol shooting, to teach Caan how to fight with a pistol. As is all Mann's films, the realism of the gunhandling and shooting are second to none. Thief explores the themes of professional (criminal) ethics and vulnerability, as the very things that make Frank human are his most dangerous weaknesses.
---
Do you know something we don't?
Submit a correction or make a comment about this profile

Copyright ©2019 Soylent Communications