The Hunt for Red October (2-Mar-1990)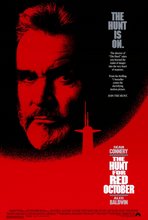 Director: John McTiernan
Writers: Larry Ferguson; Donald Stewart
From novel: The Hunt for Red October by Tom Clancy
Music by: Basil Poledouris
Producer: Mace Neufeld
Keywords: Action/Adventure, Submarine, Cold War




Russian submarine captain Marko Ramius goes rogue, taking their latest and stealthiest submarine to the Eastern seaboard of the United States. Russia asks the Americans to destroy it. Is Ramius set to start a war with the United States or, as CIA Analyst Jack Ryan postulates, intending to defect? Won an Oscar for Best Sound Effects Editing; received additional nominations for Best Sound and Best Editing.
CAST
Sean Connery
... Marko Ramius
Alec Baldwin
... Jack Ryan
Joss Ackland
... Andrei Lysenko
Tim Curry
... Dr. Petrov
Peter Firth
... Ivan Putin
Scott Glenn
... Bart Mancuso
James Earl Jones
... Adm. Greer
Jeffrey Jones
... Skip Tyler
Richard Jordan
... Jeffrey Pelt
Sam Neill
... Capt. Borodin
Stellan Skarsgård
... Capt. Tupolev
Fred Thompson
... Adm. Painter
Courtney B. Vance
... Seaman Jones
Timothy Carhart
... Bill Steiner
Daniel Davis
... Capt. Davenport
Rick Ducommun
... Navigator C-2A
Larry Ferguson
... Chief of the Boat
Dallas Officers and Crew
Ned Vaughn
... Seaman Beaumont
Anthony Peck
... Lt. Cmdr. Thompson
Mark Draxton
... Seaman
Tom Fisher
... Seaman
Pete Antico
... Seaman
Red October Officers and Crew
Ronald Guttman
... Lt. Melekhin
Tomas Arana
... Loginov (Cook)
Michael George Benko
... Ivan
Anatoly Davydov
... Officer #1
Ivan G'Vera
... Officer #2
Artur Cybulski
... Diving Officer
Sven-Ole Thorsen
... Russian COB
Michael Welden
... Kamarov
Boris Krutonog
... Slavin
Kenton Kovell
... Seaman
Radu Gavor
... Seaman
Ivan Ivanov
... Seaman
Ping Wu
... Seaman
Herman Sinitzyn
... Seaman
Konovalov Officers and Crew
Christopher Janczar
... Andrei Bonovia
Vlado Benden
... Seaman
George Winston
... Seaman
Don Oscar Smith
... Helicopter Pilot
George H. Billy
... DSRV Officer
Reed Popovich
... Lt. Jim Curry
Andrew Divoff
... Andrei Amalric
Peter Zinner
... Adm. Padorin
Tony Veneto
... Padorin's Orderly
Ben Hartigan
... Admiral (Briefing)
Ray Reinhardt
... Judge Moore (Briefing)
F. J. O'Neil
... General (Briefing)
Robert Buckingham
... Admiral #2 (Briefing)
A. C. Lyles
... Advisor #1
John McTiernan, Sr.
... Advisor #2
David Sederholm
... Sunglasses
John Shepherd
... Foxtrot Pilot
William Bell Sullivan
... Lt. Cmdr. Mike Hewitt
Gates McFadden
... Caroline Ryan
Louise Borras
... Sally Ryan
Denise E. James
... Stewardess
Stanley
... Himself
REVIEWS
Review by Dave Meloche (posted on 6-Apr-2005)
This is all about Capt. Ramius (Sean Connery), who is one of the Soviet Union's top Submarine Commanders. He has the "honor" of taking out to sea the "Red October", the Soviet's newest Missile Sub on it's maiden voyage.
The wrinkle is the Capt. Ramius has convinced his officers to defect with him to America, and hand the sub over to our Navy.
Needless to say, this doesn't sit too well with the Soviet High Command, and almost the entire Soviet Fleet is dispatched to intercept and sink the Red October.
Enter Alec Baldwin as Jack Ryan, a CIA researcher in Intelligence, who once met Ramius at a reception several years earlier. His theory is that Ramius is going to defect, which raises eyebrows with the High Military Experts, as they think he is gone mad and is going to attack the US East Coast with his missiles.
Of course you know who proves to be right.
Scott Glenn does a fine job as the Skipper of the Los Angeles Attack Submarine "Dallas". His sonar operator, Jonsey, played by Courtney Vance, picks up on the Red October with their new "Catepiller Drive", a nearly invisible drive that Sonar can't pick up. They didn't figure on "Jonsey's" ear for the anomaly sound that the drive makes.
Most of the entire movie is centered on how the Red October evades the Red Navy, and how the skipper contacts the US Navy sub, the Dallas. By now Jack Ryan is aboard the Dallas, establishes contact with Ramius, and leads him to an area where they can consumate the turning over of the Red October.
A side story is the following of the Red October by the Konovolev, a Soviet attack sub, which has orders to sink Ramius and his boat. The cover story is a "rescue" mission, but we know the truth, don't we...
All turns out as you would expect, with a few twists here and there.
The movie differs from the book greatly towards the end, as the October is hit with a torpedo from the Konovolev and damaged, but not sunk.
In the movie, the torpedo is affected by underwater decoy defenses and the torpedo turns from it's target and acquires the Konovolev as it's new target, and destroys it.
The movie version shows the torpedo just missing the Red October because of the Dallas.
There are a lot of well-know stars in this movie, and it is well worth seeing, more than a few times.
---
Do you know something we don't?
Submit a correction or make a comment about this profile

Copyright ©2019 Soylent Communications