Dramatic School (9-Dec-1938)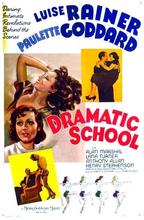 Director: Robert B. Sinclair
Writers: Ernest Vajda; Mary C. McCall, Jr.
From a play: School of Drama by Hans Szekely and Zoltan Egyed
Musical Score by: Franz Waxman
Producer: Mervyn LeRoy
Keywords: Drama




Girl who moonlights as a factory worker attends the Paris School of Drama and weaves an intricate fantasy life as a fašade for the other students, then parts of the fantasy come true. Adapted from a Hungarian play, features several big stars early in their career. Final MGM contract film for Luise Rainer.
| Name | Occupation | Birth | Death | Known for |
| --- | --- | --- | --- | --- |
| Marie Blake | Actor | 21-Aug-1895 | 14-Jan-1978 | Grandmama on The Addams Family |
| Rand Brooks | Actor | 21-Sep-1918 | 1-Sep-2003 | Gone With the Wind |
| Hans Conried | Actor | 15-Apr-1917 | 5-Jan-1982 | Character actor, 1930s to 1970s |
| Melville Cooper | Actor | 15-Oct-1896 | 31-Mar-1973 | The Adventures of Robin Hood |
| Margaret Dumont | Actor | 20-Oct-1882 | 6-Mar-1965 | Foil to the Marx Brothers |
| Paulette Goddard | Actor | 3-Jun-1910 | 23-Apr-1990 | Reap the Wild Wind |
| Virginia Grey | Actor | 22-Mar-1917 | 31-Jul-2004 | Hullabaloo |
| John Hubbard | Actor | 14-Apr-1914 | 6-Nov-1988 | Dramatic School |
| Alan Marshal | Actor | 29-Jan-1909 | 13-Jul-1961 | Night Must Fall |
| Frank Puglia | Actor | 9-Mar-1892 | 25-Oct-1975 | 20 Million Miles to Earth |
| Luise Rainer | Actor | 12-Jan-1910 | 30-Dec-2014 | German film actress |
| Erik Rhodes | Actor | 10-Feb-1906 | 17-Feb-1990 | Top Hat |
| Ann Rutherford | Actor | 2-Nov-1917 | 11-Jun-2012 | Andy Hardy's girlfriend Polly |
| Gale Sondergaard | Actor | 15-Feb-1899 | 14-Aug-1985 | Anthony Adverse |
| Henry Stephenson | Actor | 16-Apr-1871 | 24-Apr-1956 | The Prince and the Pauper |
| Genevieve Tobin | Actor | 29-Nov-1899 | 21-Jul-1995 | One Hour with You |
| Lana Turner | Actor | 8-Feb-1920 | 29-Jun-1995 | The Postman Always Rings Twice |
CAST
REVIEWS
Do you know something we don't?
Submit a correction or make a comment about this profile

Copyright ©2019 Soylent Communications