A Star Is Born (29-Sep-1954)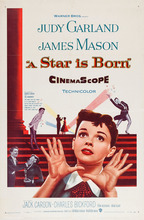 Director: George Cukor
Writer: Moss Hart
Producer: Sidney Luft
Keywords: Musical, Drama, Alcoholism




Band singer Esther Blodgett receives the help of of Norman Maine, alcoholic movie star on a rapid downward trajectory. Musical remake of A Star Is Born (1937). Watch the restored version of 181 minutes, not the butchered 154 minute version which ran in most theaters (though a few missing scenes had to be filled in with publicity stills). Received Oscar nominations for Best Actor, Best Actress, Best Set Decoration, Best Costume Design, Best Original Song, and Best Score. Entered 2000 into the National Film Registry.
| Name | Occupation | Birth | Death | Known for |
| --- | --- | --- | --- | --- |
| Irving Bacon | Actor | 6-Sep-1893 | 5-Feb-1965 | Mr. Beazley |
| Charles Bickford | Actor | 1-Jan-1891 | 9-Nov-1967 | The Song of Bernadette |
| Amanda Blake | Actor | 20-Feb-1929 | 16-Aug-1989 | Kitty Russell on Gunsmoke |
| Jack Carson | Actor | 27-Oct-1910 | 2-Jan-1963 | Two Guys From Milwaukee |
| Judy Garland | Singer | 10-Jun-1922 | 22-Jun-1969 | Dorothy in Wizard of Oz |
| James Mason | Actor | 15-May-1909 | 27-Jul-1984 | North by Northwest |
| Tommy Noonan | Actor | 29-Apr-1922 | 24-Apr-1968 | A Star is Born |
CAST
REVIEWS
Review by Tony Ciconte (posted on 11-Feb-2008)
This movie produced by Warner Brothers studio was one of the last good movies that Judy Garland did. This was a comeback film for her which should have won her an Oscar, but the greed of movie theater owners insisiting on cutting the film to have more runs destroyed the story. this was a muscical remake of an earlier version done by Janet Gaynor. Miss Garland is at her best in this film her singing is quite impressive as usual, but waht made it different was it wasn't her usual boy meets girl sweetly stories, but a real drama with tears angst and a story that ends sadly which was very much different then what most Garland films were. James Mason was very good in the role as her movies star husband who discovers her singing in a night club. He does fulfill his promise and makes her a star, but in reality it is her talent that makes her a star. There are several outstanding actors in the film Jack Carter as the heavy, Charles Bickford as the understanding studio head. The story line is believable and the acting is outstanding, but the real reason to watch this film is to hear Judy Garland sing, I say that without reservation she MAKES the film with her voice. I think that when she sings "The Man that got away" it is powerful and at the same time touching if you listen to the lyrics you basicaly hear the story of the movie. I highl recommend this film for anyone who wants to see Judy Garland in one of her best films.
---
Do you know something we don't?
Submit a correction or make a comment about this profile

Copyright ©2019 Soylent Communications