Love Comes Softly (13-Apr-2003)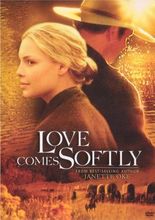 Director: Michael Landon, Jr.
Writers: Cindy Kelley; Michael Landon, Jr.
From novel by: Janette Oke
Keywords: Romantic Drama, Western
Television movie adaptation of the 1979 novel of the same name follows a widowed woman's relationship with a widowed man in the Old West.
ABSTRACT
High school teacher Marty Claridge follows husband Aaron to the Old West, only to be left by herself in hostile territory when he dies in a riding accident. Desperate for a means of support with a baby on the way, Marty accepts a marriage of convenience with Clark Davis, a widower looking for a maternal figure for daughter Missie, ultimately coming to fall in love with the man after growing enamored with his God-fearing ways.
REVIEWS
Review by anonymous (posted on 4-Jan-2007)
Four stars isn't enough. Catherine Heigl and Dale Midkiff click together just like Tom Hanks and Meg Ryan. I fell in love with this georgeous man and can't get enought of his shows/movies and she is mezmorinzing and thoroughly captivating. I cried in this movie and it really touched my heart. She has a regular TV show Greys Anatomy, but when can we see more of this man????!!! I just watched him as the US Marshall on Route 666. He's great in anything. MORE DALE MIDKIFF PLEASE
---
Review by anonymous (posted on 24-Jul-2006)
This is the best faith-oriented western for families in years, based on Best-Selling Author Janette Oke's book series. It is frequently rerun on The Hallmark Channel, who helped create the movie, plus Trinity Broadcasting Network (TBN), which has bought rights to show the series. Just like his Father before him, Michael Landon, Jr. does a fantastic job as Director! The best acting in this movie comes from Actor Dale Midkiff (who plays the Father) and young Actress Skye McCole Bartusiak, who plays the childhood version of Missy Davis in this movie. Skye's acting shines well over that of Katherine Heigl (who plays her new Mama). It would be wonderful if the Hallmark Channel, Michael Landon, Jr. and Janette Oke would get together and create a regular TV series based on this original movie! There now are 3 movies in the series. Sadly, Actress January Jones, who played Missy Davis as a teen in the second movie, called "Love's Enduring Promise", later was replaced in the third movie. Like Dale Midkiff and Skye McCole Bartusiak, January Jones was a perfect typecast for her part!
---
Do you know something we don't?
Submit a correction or make a comment about this profile

Copyright ©2019 Soylent Communications